Dropping our Son off at College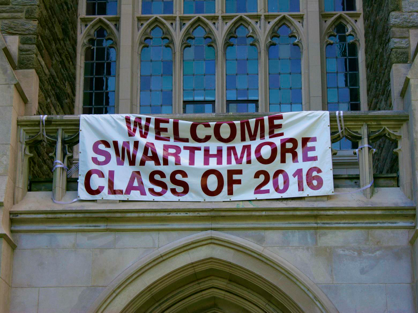 Today we dropped our son Andrew off at Swarthmore College to start as a freshman. 
His roommate (Daniel) is an Econ/Finance major from Mississippi.  Swarthmore has a great track record for matching up roommates, and accordingly, these two seem like a good fit.   They live in the farthest dorm from campus, so they'll get plenty of exercise walking or bike riding the distance, since the shuttle bus only runs in the early mornings and throughout the evening.  It is an old dorm but has the advantage that every two rooms enjoy a shared bath, which is pretty plushy and convenient as dorm accommodations go.  Our son's room was smaller than many of the others, and we wrestled with a furniture configuration for a while before deciding to put the dressers in the closets, which seems to be a good solution. 
We then went to campus to pick up his packet for the orientation period where only freshmen are on campus until the weekend.  He got his id, his mailbox key, his appointments for the required swimming test and any placement tests, as well as the name of his academic adviser who on Thursday will help him pick classes. They do not assign work-study jobs, so he will have to hustle for one at a job fair on Thursday. We were given a boxed lunch and a welcome bag for parents. 
After lunch, parents went to two sessions for parents, while the freshman had two meetings of their own.  We thought the parent sessions were wonderful and came away feeling very appreciative of the place our son now finds himself.  This is a genuinely caring community infused with Quaker values of honesty, generosity, helpfulness, respect and kindness.  It is very academically rigorous – we heard that AP classes cover only 20% of what they do in a one semester class here.  There was a story from an alumni: he reported shaking his head as a freshman, wondering how he would possibly get through that whole syllabus by the end of the term when he realized that was actually just the first week's assignment!  Their very high admissions requirements insure the attendance of only an intense caliber of student, but somehow they also choose ones with compassion and modesty. 
There is a culture here of community building and teaching each other, not one of competition.  To foster that, as well as to encourage exploration and ease the transition to college, the first term is pass/fail. There are no graduate students on campus, so the professors are completely focused on teaching these undergrads. We heard several stories of how professors went the extra mile for their students, including calling campus security to wake up kids who overslept exams! 
We also learned how students can create their own majors, study abroad, and have awesome internships.  Unlike the national average, all students here are expected to graduate in four years; we were told to start planning for their graduation by putting it on our calendars now. This is a supportive environment with lots of help available, and when asked how a student can avoid slipping through the cracks, we were told – emphatically – that there were no cracks.
There was a reception after these sessions, and since we had already said goodbye to our son, we were surprised to find him waiting for us outside the room our session was in.  This was providential as we shared tidbits we had both just gleaned, and then we hugged goodbye again. 
We feel comfortable leaving him here. It is a challenging place and he is ready for this challenge.  We have groomed him for this moment.  He's got a lot to both figure out and prove, but we are confident in his ability. We are proud of him and trust him.  He has risen to the occasion on his own in our home with very little supervision.  He has already been away from us at camp in positions of responsibility for eight weeks at a time.  Last year he got A's or A+'s in six classes, four of which were AP's and it didn't seem hard for him.  We refuse to worry about the niggling things that suggest themselves to our parental thought, instead choosing to support him from afar by affirming that yes, that too will be okay, that too will work out, that he'll make the best choice and do the right thing.
He will be fine and so will we.  We don't expect much communication, as we are not helicopter parents and he craves independence.  He wants to do this on his own.  We will have to get used to knowing fewer details of his day to day life. He may have graduated high school last spring, but we today graduate from homeschooling him.  The baton has been passed and our son is in school for the first time since kindergarten!  His classes start on Labor Day.  We will visit him again during parents weekend in October.
First in the photos below is my last photo of Andrew in his room at home, followed by a shot of our full van.  Then there are photos of his dorm, his room, and photos together with his roommate.  Below those, are pictures taken around campus.  We were particularly delighted that the depressing engineering building was transformed as promised over the summer – the difference in such a short time is amazing and commendable! 
My husband and I drove home with hearts full of gratitude for this son of ours, for this school he is starting in, and for God who put it all together.  We are thankful for heightened opportunities for him as well as ourselves!