Andrew got into Swarthmore!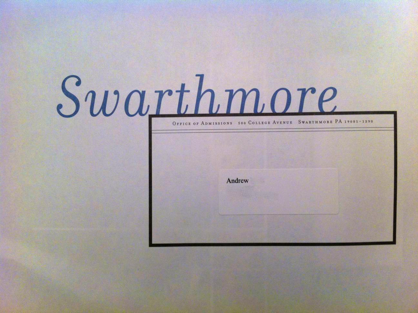 I hadn't brought in the mail.   This evening, on the way in from a robotics competition, this envelope was discovered where it had been languishing in the mailbox all day without my notice. On the back it even obviously claimed to be "the fat one" (see below).  HE GOT INTO SWARTHMORE!
This is quite an accomplishment, and a welcome validation of Andrew's potential.  They take only a small percentage of applicants and are ranked in the 99th percentile of college rankings along with the likes of Stanford and Harvard.  The student teacher ratio is 8:1.
This is especially good news as this is one of the few schools he applied to that has great programs in Economics, Political Science and Engineering, and he would not have to declare a major until his Junior year.  Now that he is unsure of following an engineering path, this solid option comes as a relief.
We will be receiving more news this coming week about other schools, but it looks like we will be traveling to Pennsylvania to visit Swarthmore in April!