My Youngest Won the AP Drawing Scholarship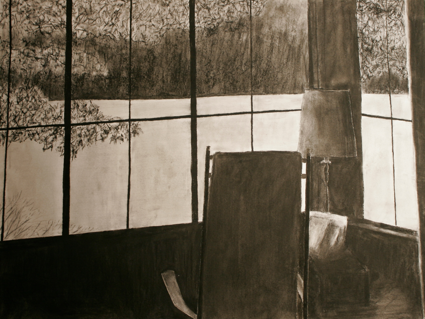 A month ago I posted on this blog samples of drawings done by previous AP Drawing students. I was dumbfounded at the amazing work they did, and felt like this class would stretch anyone past what they thought they could do.
When there is sufficient enrollment in the class, they offer a scholarship competition assignment for one winning student to be reimbursed the (significant) course fees. The assignment was a difficult one requiring a room interior lit only by early morning light.
My daughter struggled with her submission, partly because of the challenging concept but also the dauntingly enormous 18" x 24" size. You can see her effort done in charcoal above. What she chose to depict is the early morning view of Penobscot Bay in Maine, as seen from a cottage we have frequented there. That rocking chair, with its cozy blanket over the back, is a wonderful contemplation spot at dawn.
Today we learned that she won the competition and that her hard work paid off! This is the feedback from the teacher that came with the news sent out to all those who entered:
"Her drawing of early morning light focuses on line, shape, high contrast and mark making to make a bold image. This drawing is a fine start to an AP Studio Art Portfolio. She satisfied the assignment completely. Laura received a grade of 98 plus 2 bonus points [for getting it in on time] for a total of 100! Great work Laura."
Our daughter is quite pleased, while still sober about the steep requirements of this class which starts on Monday. Meanwhile, financial assistance based on merit is very much appreciated!