Recipe: Chow Chow (Green Tomato Relish)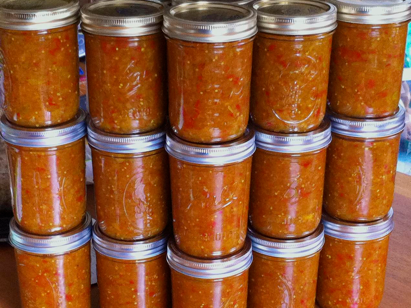 Now I really don't like this stuff. I'm including this recipe here in deference to the rest of you. Many people rave about this! Including my husband who simply loves it on a turkey or tuna fish sandwich. He has sparkling, fond memories of making it with his Aunt Ruth. My husband thrills to this activity so much that he even took a video of it bubbling to put on Facebook. And he gets all the credit for the great photos below as well.
When we were dating, my husband gave me a jar of this stuff as a love offering and was devastated to find it after we were married shoved in the back of my refrigerator, unopened. What can I say? I'm not a relish person, even though I do relish life.
I'm glad he made it this year (40 pints worth) while I was in Boston last weekend because the vinegar smell is putrid and makes your whole house reek. I find it insufferable, but endure it every year because that's how important it is to him. And there are many fans out there very grateful for my forbearance….
So if you are one of those, here is the recipe passed down many generations on my husband's side…