My Youngest Daughter Turns Twelve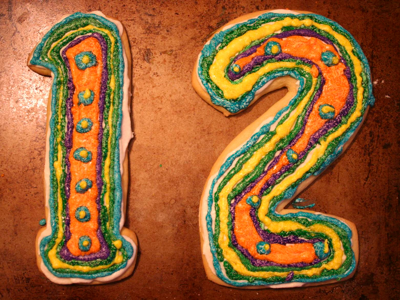 We had a nice day, despite a need to constantly revise our plans, due to my older daughter getting bumped from her overbooked airplane without a boarding pass as she was trying to go to an Environmental Summit in Florida over President's weekend, and then the transmission of my son's robot exploded, which also had a ripple effect on the day. 
Hence, the birthday dinner was postponed and the day re-juggled, but the birthday girl did a good job being patient and flexible in her expectations in the face of these unscheduled changes ricocheting around her. 
Our family tradition includes my mother's recipe of cut out cookies in the appropriate digits — a huge set (cut out freehand) for the birthday person, which they frost themselves right on the well-used cookie sheet and into which we put the candles for singing, and smaller numeric versions for everyone else. Above, see my daughters serious job of icing, and below see the rest of the delicious cookies.  This is much better than cake!
My daughter gave a lot of thought to her menu request for her birthday dinner.  She loves swordfish, so she selected fresh swordfish served in a puttanesca sauce, which is a fabulous condiment made with plum tomatoes, olives, capers and anchovies.  Accompanying that she wanted roasted sweet potatoes and roasted parsnips with mandarin oranges. 
The effect was a little too monochromatic for my taste — needing a green element (see below) — but was really delectable anyway.  She was very happy with it; the swordfish was especially amazing, perfectly succulent and flavorful.
The pile of birthday presents was huge, mostly due to the big gift from us – a food dehydrator which she really wanted, but didn't think we'd do for her. She was thrilled with it and danced around the room after opening it, singing the Stars and Stripes Forever tune.  She's a foodie and a good cook, and will approach this privilege very seriously and avidly. We imagine this gift is not the heart's desire of most twelve year olds, so it says something about ours. 
She also got five jigsaw puzzles from various people (she's very good at these and loves them), an extension supply of magnetic building toys (that she plays with while we read aloud to her), a gift card to her favorite art store (www.jerrysartarama.com), a few books, and a personalized return address stamp.