Second Annual Empress Brunch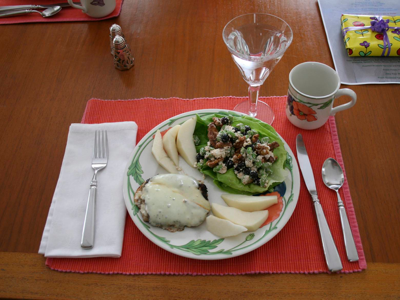 A friend of mine also has an early February birthday, so we have fun celebrating together during this birthday season by having a lovely lunch followed by an artfest making art together.
My husband gets all the children out of the house so this occasion can take place in peace and quiet; they go out skating.  I prepare a menu of choices for my friend to choose from, impressing myself with our wonderful food fare when I see our options in print. 
She chose this mushroom barley burger and edamame, blueberry and goat cheese salad, with a side of juicy pear. We teased her for picking something so simple, but it did taste good. We had a wonderful time.