The Fabric of Our Lives (New Poem by Polly Castor)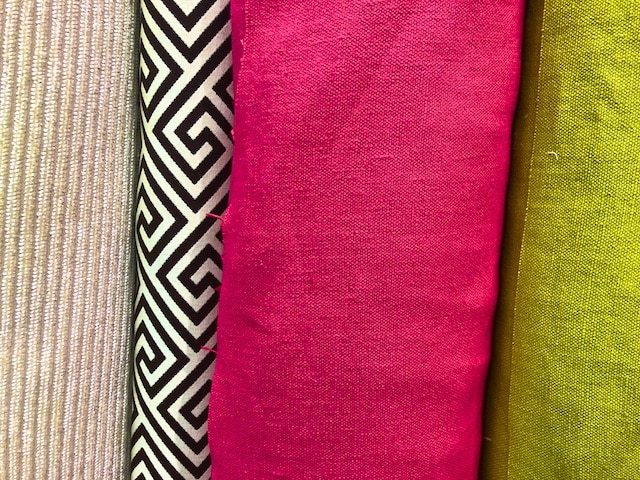 Fabric of Our Lives
What is the fabric of our lives?
Are you a draping silk or a nubbly tweed,
a tightly woven boiled wool, scratchy and warm,
or a sheer chiffon, an expensive angora mohair,
a diaphanous charmeuse, a tribal print,
a sober gaberdine suiting, a busy poly-blend,
a lightweight, but perky, dotted Swiss,
or a high thread count percale?
Are you a polished chintz, a snug alpaca, a faux fur,
a lavishly impractical suede, or a durable leather?
Are you made of bamboo or recycled bottles?
Are you loud or muted, patterned or plain,
natural or bleached, sensible or special,
geometric or floral, paisley or striped,
softly smooth, slickly waterproof, stretchy,
jazzy, or serene, rumpled or polished,
indestructibly tough, or delicate and refined?
Are you a synthetic rayon, a slippery polyester,
a jacquard brocade, or a checkered gingham?
Are you a stiff twill, a pre-washed denim,
a decorative lace, or a luxurious velvet?
Are you a sassy seersucker, a meager muslin,
or a shimmeringly translucent organza?
Are you a country quilt cotton,
a crisply pressed khaki, a breezy poplin,
a filagreed, top-tier upholstery fabric,
or a lustrously gleaming, party-going satin?
Are you a crafting felt, a breathable linen,
a loopy terry cloth, a humble burlap,
or an island-fling wax-resist batik?
Are you a loose bouclé with see-through holes,
a durable hemp canvas, an imported plaid madras,
or a form-enhancing elastic spandex?
How tight is your warp compared to your weft?
Does your selvage fray?
I'm definitely a solid color, casual and simple.
I'm like a forest green or navy corduroy,
a tranquil white flannel, a comfy teal chenille,
a bright orange organic cotton jersey,
or a cozily serviceable, black polar fleece.
No wonder I live in the north and work from home.
For dressy give me a sumptuous cashmere.
Very occasionally all that is garnished
with a wisp of contrasting
silk scarf polka dots
for rare but flagrant flair.
What about you?
Does the fabric you identify with,
exemplify, and are authentically attracted to,
align with your highest values,
and is that what is regularly utilized
and you surround yourself with
in your actual life?
by Polly Castor
8/18/2021