My End-of-Homeschooling Bash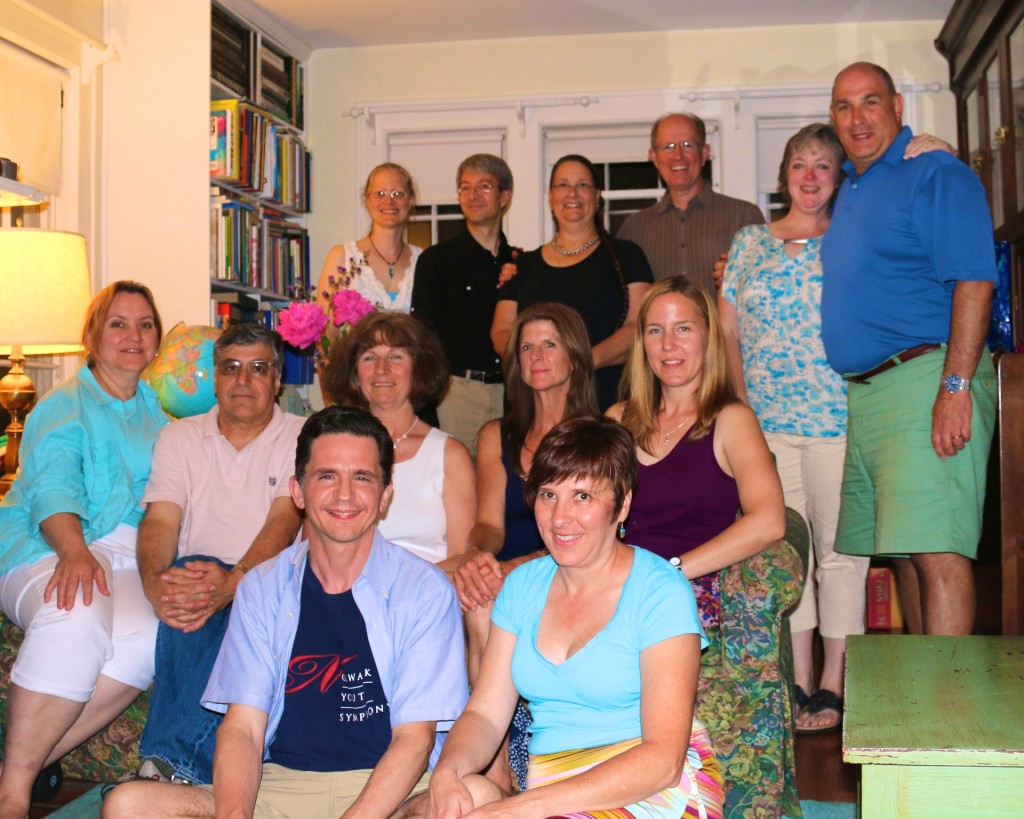 Last night I enjoyed a lovely End-of-Homeschooling party to celebrate nearly two decades of homeschooling.
The party came about because our soon-to-graduate homeschooler didn't want to participle in the local homeschooling graduation, and I couldn't convince her to have a party either. She wanted a cross-country trip with me and a fancy dinner with just both parents to receive her diploma. Both of these events are coming soon and we are looking forward to them, but still, I pressed her by asking if she didn't need more closure than that. She quipped that she was going off to college, so that was plenty of closure for her, and then volleyed back by saying that maybe I was the one that needed closure on all my years of pouring my heart into homeschooling. I agreed that she was right, and so the idea for this party was born.
She encouraged me to invite the homeschooling adults that I enjoyed (and not the kids so it would be clear not to be about her) and to have it potluck so it would not be a lot of work for me. My husband added to the idea by proposing that the homeschooling friends near and far could send him photos and comments to put into a book to present to me at the occasion.
Only about a third of the people we invited were able to come at this busy time of the year, but more came than are in the photo above, since it was rather a fluid affair. Because it was hot and humid out, we stayed inside where it was cooler, which meant my photos unfortunately have bad lighting and did not turn out very well.
One photo that did not come out was me opening the awesome book that was made for me, which you can see below. It is filled with photos of our homeschooling experience as well as comments from my fellow homeschooling friends. It is beyond awesome with its 111 pages, chock full of goodness that only scrapes the surface of all the great times we had: Audubon classes, 4H, Destination Imagination (made it to internationals twice), museum visits, field trips, archeological digs, hiking, biking, and extended camping trips, travel to London and Maine, costume parties, camps, newcomer teas, homeschooling high school meetings, curriculum sales, art fairs, science fairs, knitting classes, art classes, pottery classes, quarry parties, New Pond Farm, Valentine's Day parties, music lessons, orchestra, soccer, swimming, country dance and ballroom dance, Steinway Hall piano recitals, Five-in-a-Row group, National Geographic Geography Bees, chess clubs, Kid's Forum public speaking group (over 100 presentations each), deep space imaging at the observatory, homeschool graduations, a congressional award, FIRST Lego League, FIRST Robotics (we made it to internationals twice)…. and yes there was much more: books, books, and more books, for example!
In tomorrow's blog I'll print some of the comments from my fellow homeschoolers that are in the book. In the meantime, I'm feeling blessed by such a wonderful journey and such great people to share it with. Overall, I feel very celebrated and complimented. Someone at the party even told me that I gave her the best advice she's ever gotten in her life!
James' quiche, blogged about just the other day, was again terrific, and his homemade mint punch was raved about as well. Thank you to everyone who contributed to making this event and that incredible book possible. I have deeply loved homeschooling, and am trying to wrap my head around the fact that it is over. All of you homeschoolers: please stay in touch!