Fish Baked in Tahini Sauce (Recipe)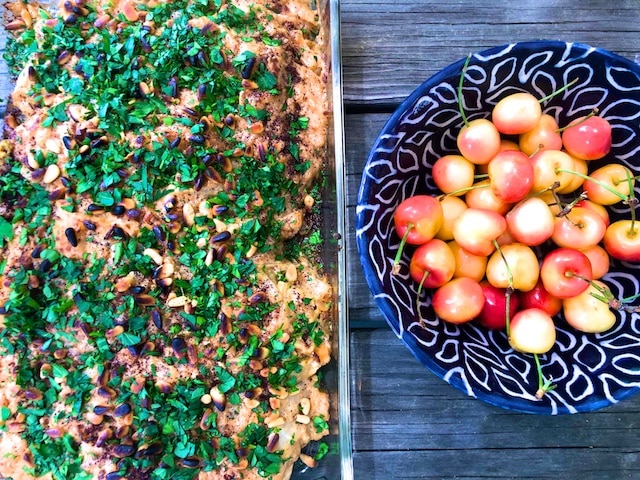 When you eat as much fish as we do, you welcome something very different every once in a while. This Palestinian dish is just the ticket! The fish comes out moist and delicious, together with a fresh taste sensation.
(And for those that don't know, tahini is a paste made from sesame seeds, that you'll find near the nut butters in the grocery store.)
This recipe is from the Falastin Cookbook. It serves six, but leftovers of it reheat just fine.
Fish Baked in Tahini Sauce Recipe
Tahini Sauce
1/4 cup olive oil
3 large onions, sliced
3 Tablespoons water
1/2 cup tahini
2 garlic cloves, minced
2 Tablespoon lemon juice
1/4 cup water
1/2 teaspoon salt
2 green chilis, thinly sliced
First caramelize the onion by heating the 1/4 cup of oil over medium-low heat, and adding the onions to cook, stirring occasionally for 10 minutes. Add the three Tablespoons of water and cook the onions 8 minutes more until they are soft but not brown. Set aside.
Mix together the rest of the sauce: tahini, garlic, lemon juice, 1/4 cup water, and 1/2 teaspoon salt, until smooth. Add the onions and green chilis, and stir until incorporated.
Preheat oven to 425ºF.
For Fish:
6 filets of fish (I used tilapia, but you could use any white fish, like cod, or halibut)
zest from 2 lemons
2 Tablespoons of freshly squeezed lemon
1.5 teaspoon ground cumin
sea salt and freshly ground black pepper
3 Tablespoons olive oil
4 tablespoons all-purpose flour (or other preferred flour)
3 Tablespoons pine nuts
1/2 cup fresh parsley leaves, chopped
1 teaspoon sumac
Place the fish in a large shallow bowl and add the lemon zest, lemon juice, cumin, 1/2 teaspoon of salt, and several grinds of fresh black pepper. Mix well to coat and let marinate for ten minutes at room temperature (but no more or fish will break down.)
Put 1.5 tablespoon of olive oil in a frying pan over medium-high heat. Put the flour on a plate and roll the fish pieces in the flour before adding them into the pan. Cook half the fish this way, 4 minutes per side, and then repeat for the other half of the fish. Transfer the sautéed fish into a 9″x13″ baking dish as shown below.
When all six filets are sautéed and in the baking dish, spread the tahini sauce evenly over the fish. sprinkle pine nuts over the top. Roast for 8 minutes. If you want some extra color on top, switch the oven setting to broiler for 3 minutes or less.
Serve warm, garnished with parsley, and sprinkled with sumac. We like a little finishing salt on it as well.
Yum! Enjoy.
[printfrindly]