"Chicken Noodle Soup" – with No Chicken and No Grain (Recipe)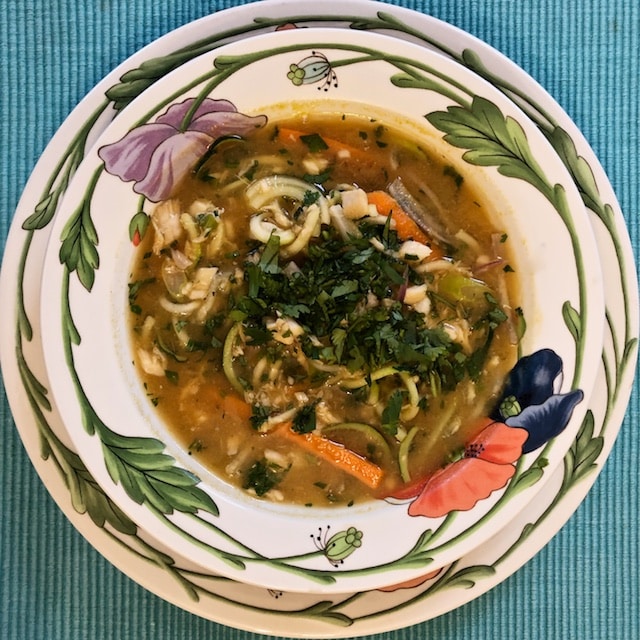 This is chicken noodle soup without either the chicken or the traditional noodles. However, people tell me it has the same heart warming, restorative feel of that fabled, classic: chicken noodle soup.
This recipe is also quick and easy to make, and leftovers warm up well, so it will be just as welcome the next time.
To make this vegetarian/vegan, simply omit the fish for a lovely vegetable "noodle" soup.
If you don't have a spiralizer, you can buy zucchini already cut into noodles in your supermarket. If you use those make this soup soon after buying them.
Makes 4 servings.
No Chicken No Noodle Soup Recipe
2 tbsp coconut aminos (or soy sauce)
1+1/2 teaspoon fish sauce
2 Tablespoons lime juice
2 large cloves garlic, minced
1 thumb sized piece fresh ginger, grated
4 tilapia loins (not from Asia)
3 cups vegetable broth
2 scallions, sliced on diagonal
2 large radishes, thinly sliced
1 carrot, peeled and cut into julienne slices
1 zucchini – spiralized, and cut into reasonable lengths
1 cup chopped cilantro
Mix coconut aminos, fish sauce, lime juice, garlic, ginger, and broth in a soup pot. Warm over medium heat for ten minutes.
Add the fish and cook until it flakes apart, about another 10 minutes.
Add the scallions, radishes, and carrots and cook for 5 minutes.
Pull off the stove and add the zucchini noodles. Let stand for 5 minutes or until the zucchini has softened and is hot. Stir in most of the cilantro, reserving some for garnish.
Serve immediately.