Walnut Crusted Scallops with Butternut Puree (Recipe)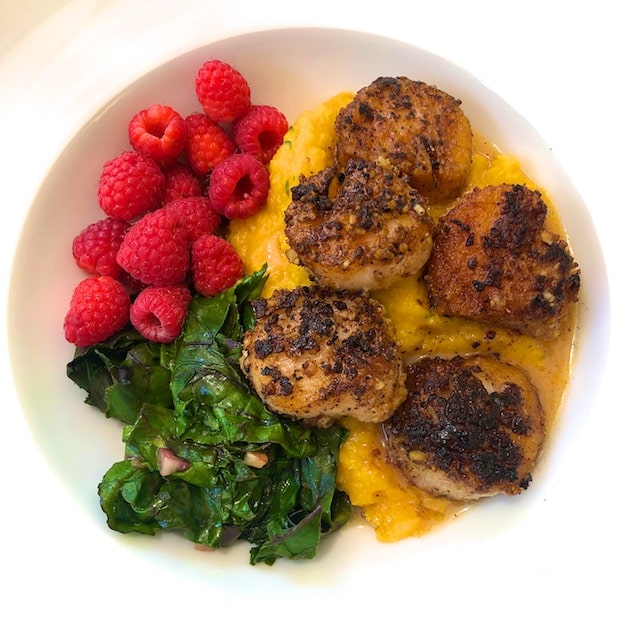 These are yummy and a real treat!
I served it above with beet greens and homegrown raspberries.
For the squash puree:
4 cups butternut squash, peeled seeded, and cut into 1-inch cubes
1 cup (or more as necessary to keep the squash from browning) vegetable broth
1 garlic clove
1/4 cup cashew creme or almond milk
1/2 teaspoon salt
1 teaspoon fresh thyme
For the scallops:
2/3 cup walnuts
1/2 teaspoon garlic powder
1/4 teaspoon paprika
1 pound sea scallops, foot removed
1 teaspoon sea salt
1/2 teaspoon freshly ground pepper
2 tablespoons avocado (or olive) oil
1 Tablespoon chopped fresh parsley for garnish (optional)
Combine the squash, garlic, and broth in a medium saucepan and turn to medium-high heat. Bring to a boil and cover. Cook until the squash is very tender, about 15 minutes. Add more broth if necessary, for you do not want the squash to brown, or your puree will be an ugly color. Do not drain, and transfer the contents of the saucepan into a blender, with the nut milk, salt, and thyme, and puree until smooth. Return to the saucepan to keep warm until ready to serve.
Combine the walnuts, garlic powder, and paprika in a food processor and pulse until like bread crumbs. Transfer the mixture to a plate. Place the scallops on a kitchen towel and pat dry. Season both sides with salt and pepper. In a large skillet, heat the oil over medium-high heat. Dip both side of each scallops in the walnut crumbs to coat each like a crust. Add the scallops to the skillet. Cook until the scallops are golden brown on each side and cooked through, about 2 minutes per side.
Place the scallops on the butternut puree and garnish with parsley, if desired. Serve immediately.
Wow, isn't that good?