Family Thanksgiving Photos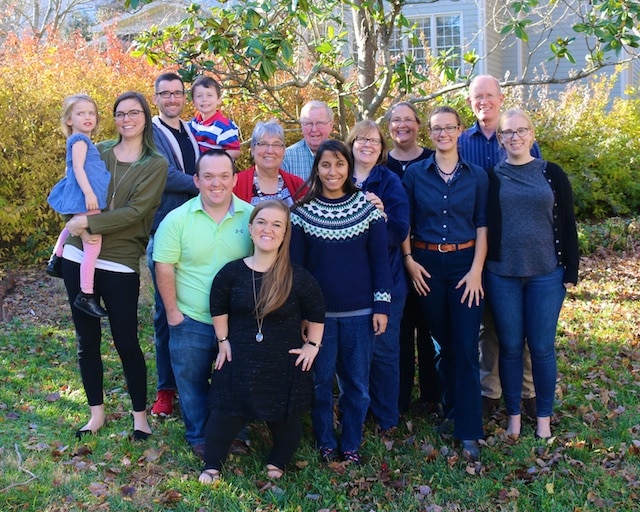 We had a lovely Thanksgiving and hope you did too.
We traveled to North Carolina to be with both my sisters and their families. Everyone was there except our son. Our daughter from California brought her boyfriend, who met my side of the family for the first time. Along with my niece's in-laws, we had seventeen for Thanksgiving dinner. I spent the Monday before Thanksgiving roasting six large butternut squash for the meal, but unfortunately, the dish broke in transit; we didn't want to risk any glass shards, so it got its picture taken, but was never offered to be eaten.
We all had fun together, talking, eating, and playing games. It was especially nice to see how much our daughters loved getting to see each other; their magnitude of affection does my heart good. Our younger daughter worked on grading papers, and we enjoyed having her with us for the long ride to and from.
On the way home we had dinner in Alexandria with James' sister's family and a Amarillo friend. However, that visit was cut short by impending snow, and we hustled home a day early. Nevertheless, we were grateful for a great time, and for our loving family, as well as for all of our travel safety.
There was another Thanksgiving highlight I'll blog about tomorrow! Meanwhile enjoy these photos of a family that doesn't get together all that often, since we hearken from five different states: North Carolina, Connecticut, Ohio, Pennsylvania, and California. Don't miss the blooper photo at the bottom which is horible of me, but captures the spirit of the time so well.
Hope you had a great long weekend as well.