Artichoke, Zucchini, and Caramelized Onion Frittata (Recipe)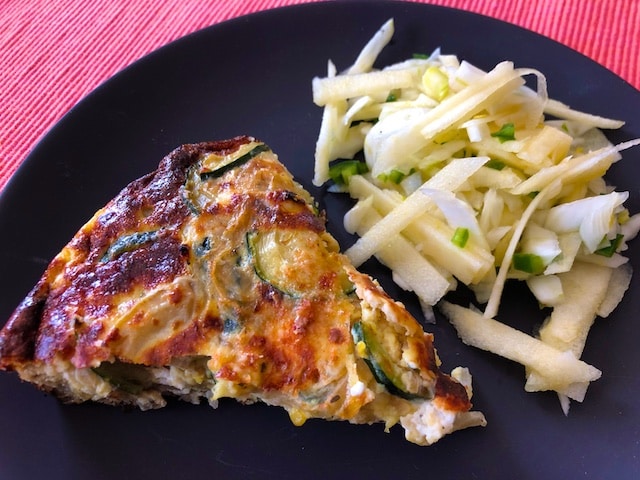 This frittata is absolutely delicious. Give it a try!  You'll be so glad you did. It will become a favorite. It is perfect for brunch (or lunch) for company, or to make for yourself to have leftovers for good breakfasts during the week. I dreamed of this when I omitted cheese during my prolonged Whole30 last year!
After taking your time and not rushing your onion as it caramelizes, this frittata comes together quickly. You could cook the veggies in advance, if you wish, and put it together at the last minute, when you are ready to eat, or your company has arrived.
Just be careful to keep an eye on it in the oven, or the parmesan on the top might brown a tiny bit too much like mine did (see last photo below– I need to remember that microplaned fresh parmesan browns quicker than the store-bought pre-grated stuff). No worries, however, if you make the same mistake as I did; browned parmesan still tastes divine, even though it is not as pretty as it is when it is golden.
Artichoke, Zucchini, and Caramelized Onion Frittata Recipe
8 large eggs
3 tablespoons olive oil or ghee
1 large onion, thinly sliced or diced
pinch dried thyme
1 medium zucchini, cut in 1/8 inch thick coins and quartered
1 can artichoke hearts (or bottoms), rinsed, drained, thoroughly dried, and quartered
1 teaspoon salt
1 tablespoon white wine vinegar
black pepper
5 ounces goat cheese or feta, or a combination of both
1/4 cup grated parmesan
Break eggs in a large bowl and set aside.
Toss the onion in a large pan over medium heat with a tablespoon of olive oil, and cook until it becomes translucent and just beginning to get golden (about 10 minutes). Add the thyme and a 1/2 teaspoon of salt, plus the zucchini and artichoke quarters. Continue to cook stirring often for another 10 minutes until the onions are caramelized and the zucchini is tender. Stir in the vinegar and black pepper to taste. Remove from the heat.
Preheat the broiler to 500ºF.
Whisk the eggs until smooth, adding the remaining 1/2 teaspoon of salt. Spoon the veggies into the large bowl, and crumble in the goat cheese and/or feta.
Place a clean, oven proof skillet over medium heat, and when the pan is hot, add two tablespoons of olive oil or ghee. Swirl to coat the pan and add the veggie egg mixture. Let it cook undisturbed for 3 to 4 minutes, until the eggs on the bottom are set.
Sprinkle the top with the parmesan and transfer the skillet to the broiler for about 3 minutes, until the frittata is firm in the center and it is beginning to brown on top.
Cut into wedges and serve immediately.
Enjoy!