California Railroad Museum Photos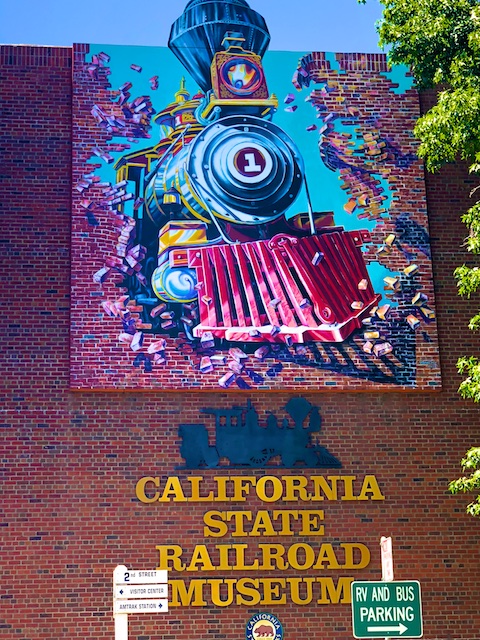 We were in Sacramento a day our daughter had to work so my husband and I entertained ourselves quite handily at the California Railroad museum there. It is a lovely museum worth going out of your way for.
It turns out Sacramento was where the Transcontinental Railroad was born, and hence this museum is here. There is a short documentary film, lots of trains, many of which you can go in and discuss what would go on there with a docent. Our favorites of those were the Pullman car, the dining car (complete with magnificent china collection), and the best for me, the mail car. We learned a lot and had a great time. It is amazing that the train system worked so well before computers– check out that intense slide rule below– and that everything ran smoothly coordinated down to the second. It is also inspiring that the railroads employed a whole spectrum of peoples, mixing races, genders, and economic brackets seamlessly and harmoniously under one objective.
I should also mention that upstairs there is a toy train collection to blow your mind, if you are into that. I was so busy watching delighted children of all ages there that taking any photos of that never occurred to me. You'll have to see the toy train exhibit for yourself. It is because of this visit that I was inspired with that previous blog post of train books we've enjoyed…
So if you are in the area, don't miss this interesting museum. It is especially perfect for families, homeschooling or otherwise. Check out my photos in this post for a virtual taste of the place.