Uncleanness Cast Out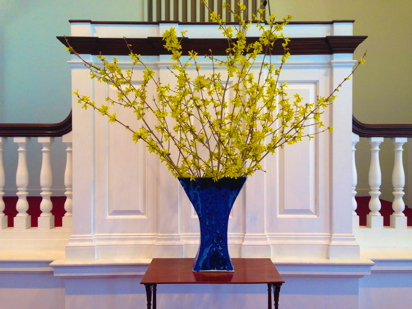 In these photos you can see our flower committee offering at church today: our newly bloomed forsythia in a vase that I made in pottery and gave my husband expressly for this purpose.
In pondering some of the many messages in today's church service about atonement, I was particularly struck by the bit in the Bible where Jesus casts out the uncleanness of a man (see Mark 1:21-28) and somehow I fused that together in my thought with this line from Hymn 157 that we sang: "Nor prayed he for these alone, but for all, that through all time, God's will be done."
I saw clearly that the Christ did not just cast out that one man's uncleanness, but everyone's for all time, including you and me and everybody we pray for.
If the Christ's purpose was to reconcile mankind to God, how can any of us be left out of that, since the Christ was surely to have been completely and thoroughly effective without exception? Do we simply need to acknowledge this as already true, and gratefully accept being so purged?
I've always loved how Christian Science sees atonement as an exemplification of "at-one-ment" with God. Jesus talked about being one with his Father: "I and my Father are one." He goes on to say, "That they all may be one; as thou Father, art in me, and I in thee." (John 17:21)
Since the Christ is the true idea of God that Jesus wanted each of us to be at-one with, it makes complete sense to me that it would be inconsistent to keep any uncleanness as part of that. Uncleanness must be excluded from our oneness with God, since God is not unclean and the first chapter of Genesis claims we are made in His "image and likeness." I feel it was on this basis of original innocence that Jesus was able to cast out uncleanness for that man in the gospels as well as for all of us.
Now it just seems to me we need to each behave out from the truth of that place of purified at-one-ment, which I believe is not only possible, but perhaps even inevitable. How exhilarating a glimpse this was!