Reading Challenge 2018 Update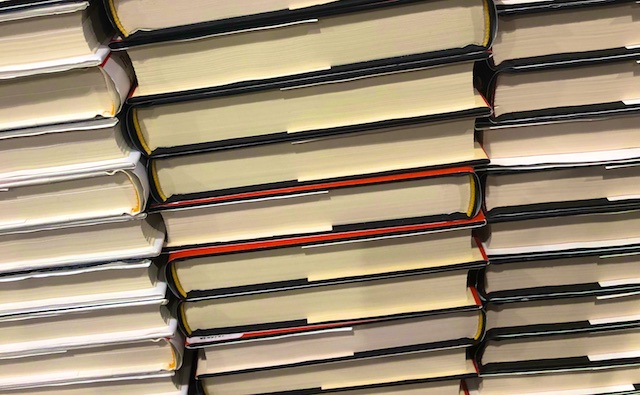 I'm a little behind in my Reading Challenge for 2018, only having completed 14 books since January 1, having read some long things, some slower things, and some things I could not complete because they were either too banal or too violent. It has also been a busy few months with my work, for which I am grateful. I'm reading several things simultaneously too, so as they finish off, I'm not concerned (yet!) about meeting my goal.
Below you can see the things I read and reviewed on this blog since January by clicking on the blue titles, which are links to those reviews. The titles highlighted in red, I have finished but did not review, and those highlighted in the reddish purple, are titles I am either in the process of reading, or planning to read next.
How are you coming along in your reading year? Anything in particular that was wonderful that you recommend?
Reading Challenge for 2018
A classic: My Antonia or Pilgrim's Progress
A mystery: The White Mirror or Magpie Murders
A love story:
A book of poetry:
A cookbook: Salt Fat Acid Heat
A memoir: Praying for Strangers
A biography: Alexander Hamilton or Di vinci
A book of essays: Feel Free or Pilgrim at Tinker Creek or The Abundance
A long book: The Weight of Ink
A saga: The Shell Seekers or The Immortalists
A series: 
A page-turner: Midnight at the Bright Ideas Bookstore
A coffee table book:
A book of chick-lit (or the guy equivalent): The Other Daughter or Before and Again
A book of fantasy or science fiction: The Golem and the Jinni
A self-help book: Art of Possibility
A beach read:
An audio book: One in a Million Boy
An adventure book: The Amazing Adventures of Kavalier and Clay
An educational book:
A children's picture book: Flotsam
A young adult novel: Gregor the Overlander
A book about art:
A book about spirituality:
A book about science: Lab Girl or Storm in a Teacup
A book that promotes peace: GodDependency
A book about nature or being outside: One Man's Wilderness or Pilgrim at Tinker Creek
A book about lifestyle, finances, or time management: 4 Hour Workweek
A book about happiness, success, or ingenuity: Mastery
A book about business, communication, or networking: Thank you for Being Late
A book to help you get better at something: The Secret Language of Color
A book about reformation or transformation:
A book about a remarkable woman:
A book about Latinos or African Americans: The Underground Railroad
A book about immigrants or refugees:
A book that won the Pulitzer Prize: Laughing boy, The Amazing Adventures of Caviler and Clay
A book that won the Man Booker Prize: Lincoln in the Bardo
A book that won the Caldecott Medal: Journey
A book that won the Newberry Medal: The One and Only Ivan
A New York Times bestseller: Little Fires Everywhere
A book of historical fiction set in America:
A book of historical fiction not set in America:
A book with a one word title: Arabella
Fiction printed in 2018: The Great Alone
Non-fiction printed in 2018:
A book written in the 19th century: Rose in Bloom
A book written in the 20th century: Time and Again
A book from an independent bookstore:
A book on loan from a friend: Prisoners of Geography
A book checked out from the public library: The Gold Coast
A book of fiction you own but have never read: Moonflower Vine
A book of non-fiction you own but have never read: Mindset