Grace Notes #8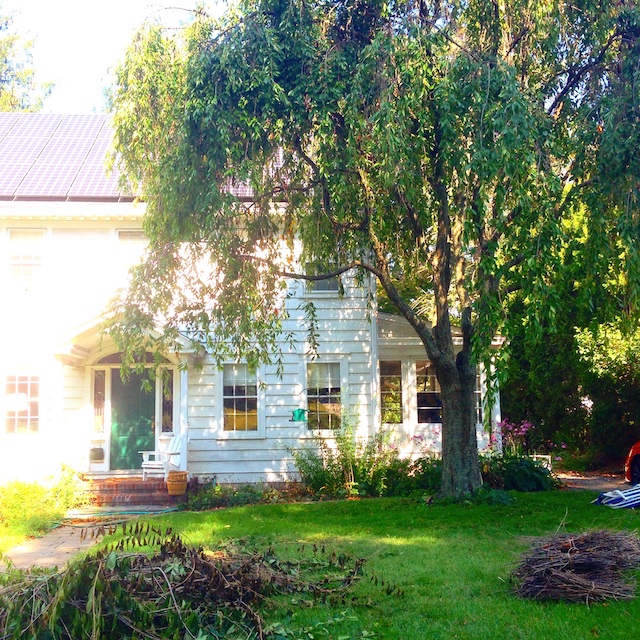 This is a relatively newer, periodic, blog feature; I call it "grace notes." It occasionally captures my jottings of incidental gratitude. My hope is that this practice will make me (and you?) more aware of the constant flow of amazing good we are perpetually steeped in, which we are surrounded by all the time. It is here only asking to be noticed and amplified.
So now I am furthering my ongoing goal of appreciating such a continuous, overflowing abundance of random good. I've even taken photographs of some of them –mostly with my iPhone–as shown in this post.
My list continues with:
We finally trimmed the weeping cherry tree in front of our house that was a housewarming gift from my parents over 25 years ago. It was getting very long and shaggy and looks much better now (photo above).
Our younger daughter not only got to hear Physics Nobel Laureate Bill Phillips speak at a campus wide talk, but the next day had him in class, and afterward got to go out to lunch with him (see first photo below). (Because of that internship she had last summer, she even knew an answer to a question that he did not, so he took particular notice of her.) Another picture (below) shows her kayaking with her roommates, on what her school calls Mountain Day. I'm grateful for all the good in her college life and that she shares it with us by staying in touch. Her latest news is she made Danish pastry from scratch from Julia Child's recipe (two rises: took 12 hours to do, and we're begging for her to do it again at Thanksgiving).
Our local grocery store on the other side of the block from us has been undergoing renovations all summer and the new transformation is starting to emerge. See the photos below of the upscale grocery presentation that is being installed in my little town. It is so gorgeous, it hardly feels like the same place I've shopped for decades. I didn't think the old store worn out by any means, but wow, what they've got going in is from a whole new century. Soon we will have the grocery store of the future a three minute walk away. I'm grateful they are investing so much in our community.
I love October, the deep blue skies, the changing leaves, watching leaves flutter down, the crunch of leaves underfoot. I'm grateful to live where there are all four seasons and to have some nice hiking parks near by. I'm grateful to have the freedom in my schedule to be able to get out in it.
There has been lots of art activity that I am so grateful for! I've loved being in many shows and am currently in my first national one! I've enjoyed congenial workshops, and love painting outside in glorious weather. I've been grateful for ongoing new opportunities to share my power point talk on abstraction. And my casual artist walk and talk is even now on YouTube. I got to go into NYC twice to the National Arts Club recently, which was wonderful. All this has had a life of its own, and continues to unfold in unexpected and energizing ways. I'm meeting a lot of great people and making new friends. Also, I'm fizzing with ideas to paint, and am grateful for the ongoing supply of energy, art materials, and opportunities to express my unique take on the universe.
I'm grateful I've learned to cook. Shown in this post are two salmon salads (every one is different) as well as some chachouka. I love that I am still learning all the time. I'm grateful for all the terrific cookbooks on the new book shelves at the library. What a boon they are to check out and read. I approach the refrigerator like those ingredients are a palette and the meals, paintings. I'm grateful to have a husband that has such an open attitude to try whatever I cook, and that more and more I feel like I have complete dominion over food. We are blessed with such variety of flavor, texture and color! I marvel at it all, eagerly trying the next new idea or food.
I'm grateful for the new hymnal at church. The last one was published in the 30's so we were due for this new one. We had a really nice hymn sing with incredible, world class musicians last Sunday, and refreshments afterwards. This community is so nice, the music so fun to sing, and much more in my range as well. I love all the inspiring words too– lots of new fodder to think about and apply in one's life, which is great.
I'm grateful for our quarry swimming hole, which I've kept visiting this fall as a quiet refuge from the world. I've also had some nice picnics there with friends, taking our fabulous local food truck food there for some private heart to heart chats.
I'm grateful for the good relationships I have with my sisters, and extended family on both sides. I know this is not something to take for granted and I'm so glad for all the warm, kind, feeling and support we express to one another. Even though we are far from one another, we find our ways to stay in touch, and I'm glad about that.
I enjoy working on my pottery too. Amazingly, I have pottery commissions lined up all the way to Christmas! For this I am grateful, and I'm slowly cranking them out, between all the other things I am doing. I'm throwing some nice new bigger-than-ever bowls on the wheel, which is impressive after my elbow healing. It takes quite a lot of strength to handle that much clay and I'm grateful I can. I enjoy creating another surface to decorate and carve, which is a meditative process that is both time consuming and deeply centering. Also, there is something especially wonderful about eating off of dishes you made yourself.
I'm grateful for my local independent bookstore which is also a block from my house. I go there twice a month, once for book club, and the other time for their knitting group. I've met some wonderful people there, which I especially appreciate, since so many of my art and church friends live much farther away. I'm learning how to knit mittens, and have read books I never would have otherwise, but that have broadened my horizons in a good way.
I'm glad to have gotten a new Vitamix when the one I inherited from my mother-in-law suddenly stopped working. We've toyed around with getting a new TV (the one we have is from the 70's) but never spend the money. However this pricy appliance was replaced within days. We bought it at Costco, and that is a place I'm grateful for too. In many ways it helps make our lifestyle possible.
I'm glad for those I play Words With Friends with. Shown in the photos are a few satisfying hands. I like playing cribbage with my husband after dinner too. We keep a running tally; right now he's beating me by two games. Both these games are a fun way to wind down.
And here's a shout out to flowers, as our last ones fade, and pumpkins start adorning yards instead. I am grateful for beauty everywhere.
And yay for clean kitchen sinks, freshly laundered sheets, and bills paid! Yay for dentists, and policemen, and authors. Yay for repaved roads, airplanes, and escalators. Yay for peace, and love, and wisdom. Yay for overcoming, forgiving, repenting. Yay for generosity, respect, and compassion. And I thank God that Truth governs the universe, not alternate facts.
I'm grateful for friends of every stripe. I got a snail mail letter recently from an elementary school friend of mine who was my tent partner in Girl Scouts; she wanted to share with me some reminiscences of my mother. I've had some lunches out recently with a fellow homeschooling mom who is now empty nesting. I've gotten to know some stellar artists, some passionate activists, and some deep thinkers. Social media makes it easy to stay in touch with friends old and new. I have friends that are traveling to exotic places, and one's who are selflessly philanthropic. My life is enriched by them. I like hearing about progressive steps. One friend is buying a horse farm in Florida that they found by virtually driving down the road on Google maps while states away, and saw a "for sale by owner" sign with a phone number; they called and bought it; isn't that stunning? People are good, courageous, and kind everywhere, and I have to express this, in a world that sells more horror movies than happy ones, and fills the media with coverage of massacres. I am grateful there are so very many incredibly good people.
And I need to praise cell phones. I can be on a hike, far out in nature, and take a work call. I am not tied to a desk, and I feel huge gratitude for that. I'm on call 24/7, but because of this amazing technology, I feel free and not burdened by that at all. And I love hearing from you and working through with you whatever seems to be going on. I'm grateful for every call.
I'm grateful for blog readers both new and old. This community is growing all the time and has much diversity in its readership. I'm just me doing my thing, trying to encourage you to do yours, but it is heartening the interest, appreciation, and help people glean from this blog. And I'm grateful to those few that comment actually on the blog instead of just to me. This blog gives structure to my days; I enjoy regularly posting something that I'm appreciating. To share a life of amplifying good with you is a beautiful thing, and I thank you for it.
This list is by no means exhaustive: it is just the tip of the iceberg! What are you grateful for?