2016 Reading Challenge Complete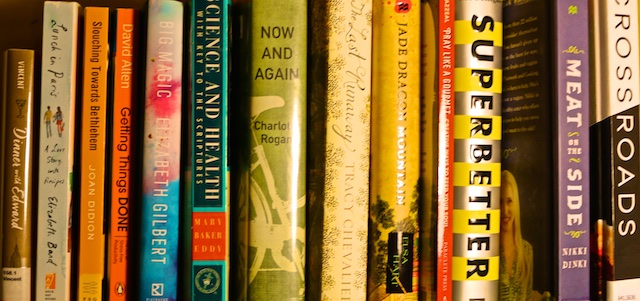 This being a busy year, with more travel  than I expected, it has been a bit of a scramble to complete my Reading Challenge before the end of the holidays, but I'm going to make it!
I read 56 books in 2016. A few of these books I am in the process of finishing up, and one (A Hundred Years of Solitude) I really didn't like and will not finish. Many of the books on this list I have reviewed on this blog, some were I reread so I did not review them, and several were either too light, too middling, or too unworthy of a review. I clarify which is which below.
Science and Health with Key to the Scriptures is an all time favorite book of mine and I reread it most years.
The biggest project was the reading of Barkskins, by Annie Proulx, which I worked on most of the fall, and whose review (among others) will be forth-coming. 
So below see what I read this year, with live links to my corresponding blog reviews in red, and the books themselves in blue.
And please share in the comments how you came along on this project. Did you finish it? What did you read this year that you liked best?
For our Reading Challenge for next year, which I will post on December 28 to give you some time to get ready to launch it in the New Year, I have what I think is an easier and more open-ended list, although containing the same number of books. I hope you join in with us next year!
52 Week Reading Challenge for 2016
A book of fiction you own but have not read before The Last Runaway (four star review here)
A nonfiction book you own but have not read before Big Magic (five star review here)
A serious book Gilead (five star review here)
A light book First Star I See Tonight (light)
A short book Dept. of Speculation (unworthy)
A long book Barkskins (review pending)
A book set in Paris Lunch in Paris (light)
A book set in London Silent as the Grave (light)
A book set in New York City House of Thieves (3.5 star review here)
A book set in the Middle East A House Without Windows (review pending)
A book set in Asia Jade Dragon Mountain (4 star review here)
A book set in South America A Hundred Years of Solitude (awful)
A book set in Africa Circling the Sun (four star review here)
A book about travel A Thousand Days in Venice (light)
A business book Getting Things Done (five star review here)
A motivational book The Crossroads of Should and Must (light)
An inspirational book Abundance: The World is Better Than You Think (five star review here)
A book on spirituality Science and Health with Keys to the Scriptures (reread many times)
An organizing/decluttering book Sink Reflections (discussed here)
A book about changing habits Super Better (review pending)
A book about an artist Forest Lover (about Emily Carr) (four star review here) 
A how-to book The Pastel Book (middling)
A book where you learn something new Seven Brief Lessons on Physics (five star review here)
A book that made you think differently Interrupted (review pending)
A book about your hobby Felted Knits (light)
A coffee table book Humans of New York (reviewed here) Bright Fields: The Mastery of Marie Hull (discussed here)
A cookbook The Homemade Kitchen, Crossroads, Pollan Family Table (reviewed here and here)
A holiday book The Mischief of the Mistletoe (light)
A memoir Delancey (four star review here)
A mystery Silent in the Sanctuary (light)
A book of poetry Four Blue Eggs (middling)
A book of essays Slouching Towards Bethlehem (review pending)
A book recommended by a friend The Interestings (three star review here)
A book about an animal H is for Hawk (five star review here)
A book with a strong female heroine Euphoria (three star review here)
A book with a male protagonist The Little Paris Bookshop (four star review here)
A book in which none of the 10 commandments is broken Pray Like a Gourmet (review pending)
A book in which a world religion places a key part Sermon On The Mount (five star review here)
A book by an author you have never read before Reader's of Broken Wheel Recommend (four star review here)
A book by an author you love No and Yes (Mary Baker Eddy) (reread)
A book at the bottom of your "to be read pile" The Art Forger (five star review here)
A book you've always wanted to read One Thousand Gifts (four star review here)
A book you started but never finished The Dirty Life (unworthy) The Lobster Chronicles (unworthy)
A YA (young adult) book Behind Rebel Lines (middling)
A new children's picture book Hippopposites (light)
A novel printed in 2016 Now and Again (three star review here)
A non-fiction book printed in 2016 Dinner with Edward (five star review here)
A book based on a true story Soul of an Octopus (five star review here)
A book borrowed from the library Art, Inc (middling)
A book you got from an independent bookstore The Nightingale (five star review here)
A book of historical fiction Under the Wide and Starry Sky (four star review here)
A book about falling in love The Orchid Affair (light)