How to Easily Cut a Butternut Squash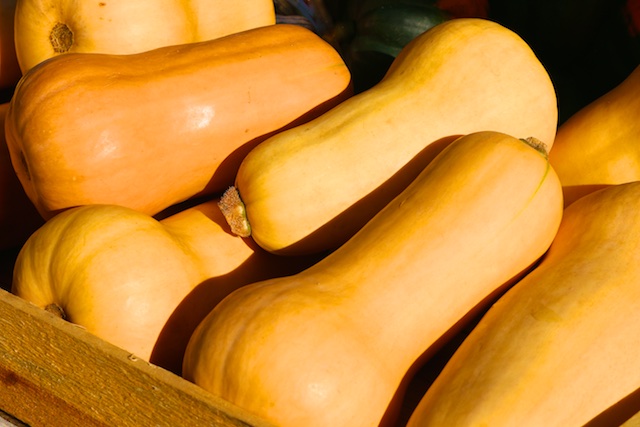 What I have heard since posting this recipe over the weekend is that many of you don't know a good way to cut butternut squash. If using it at all, you are being intimidated or lazy, buying the precut stuff, which is not only expensive but often of inferior quality. Uncut butternut squash remains fresh a long time and is far preferable than precut. 
Some try to peel it with a vegetable peeler which is awkward. Many struggle to cleave it open end to end, pounding the knife through it like a hammer. Others puncture it and microwave it to make it easier to wrestle with, but that also has its downsides. Try my way and put all that frustration behind you.
To state it most simply: you want to render your butternut squash into a series of discs. First trim off both ends. Then cut perpendicular to the length in manageable discs.  A bigger knife works best for this, but a smaller one will work too. If it is not really sharp, you may have to gently let the squash roll back and forth while you slice it– the motion will help your knife through.
It is best to aim one of your cuts to land at the spot where the neck curves toward the rounder part; it will make the next step a bit easier. Right now don't worry about the thickness of your discs. If your discs are thicker than you want your cubes to be, once they are peeled, it is easy to cut a disc in half to end up with the desired thickness.
Now that you have disks, lay them flat on your cutting surface, and use your knife to slice off that disc's peel, and discard it. If your disc is wider on one side than the other because of a curve, place the larger side down to make it easier to trim off the peel. If a disk has seeds and pulp, scrape that away with a spoon and discard. Once the peel and seeds are gone, cut into discs of desired thickness, and then into cubes.
Examining the photos below should make the process clear. It is easy and even fun. Don't ever by that less-fresh precut stuff again! One butternut squash usually yields about four cups of cubes.
(FYI: we like it best cooked this way …)
Enjoy!