Parent's Weekend at Juniata College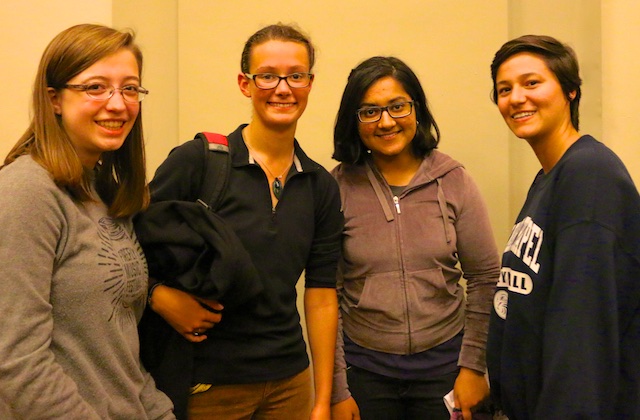 We had a nice weekend at "Homecoming and Family Weekend" at Juanita. It was great to see our youngest daughter after her first six weeks of college. She is doing well, working hard, and having fun. We brought her a massive care package of her favorite food, as well as other sundries she needed or asked for. 
We arrived on Friday evening in time to take her out to a nice dinner at Mimi's, where she luxuriated over a delicious piece of salmon. Then, she showed us her work in the pottery studio, and the little turtle symbol she has fashioned to press into her clay work, to identify it as hers. The clay she is working with now is different than what she used in high school, and the class is more structured and rigorous than the one she had done at home. She's made about ten mugs already (wish I had a photo!) and she is now working on a large series of bowls, some of them nesting ones. She spends about fifteen hours a week in the studio, and although this is intensive in its own way, it is "downtime" from academics for her. She has figured out that she can graduate with a double major in Math and Physics from here, and still be able to take a ceramics class every term. This makes her happy and keeps her grounded (pun intended).
After that, we went to a salsa concert on campus by the Williamsburg Salsa Orchestra which had come from NYC for the occasion. The band asked for college kids that wanted to, to come up on stage and dance. We watched as our daughter spontaneously and readily accepted that invitation, dancing tirelessly and well in front on stage for two hours, occasionally dragging friends up to join her. It was good to see her so comfortable in her skin and feel so free to be herself here. I was surprised my photos of her up there came out; you can see some of her joyous movement below (she's in the black shirt, front stage, right of middle).
The first thing Saturday morning, my husband and I went to a demonstration of how to make apple butter that was out at the Juniata Raystown Lake Field Station, which is a facility I had wanted to check out anyway. It was further from campus than we expected, on quite a remote spot on that lovely lake. The apple butter was made in huge, 150 year old copper pots, over a fire under a tarp in the rain, and you can see my husband stirring the paddle below. This was interesting, even though we had to leave before tasting the final results. We enjoyed the Pennsylvania back roads, which were beautiful, even in the rain, as you can see.
We rushed back for our daughter's Physics and Math department open house, where we got to meet her professors and advisers. They were wonderful, competent people, that were very interested in their students. Several commented to our daughter about her stamina dancing the previous evening, and I was surprised they had been there to see it. I felt like in six weeks her professors knew her better than any of mine ever had at the larger University I attended. The student-focused environment at Juniata is not just something in the brochure; it is real. It is great to have her in a place that is both academically demanding, but warmly supportive, which is such a powerful combination.
And in the photo below, the white haired gentleman my husband is talking to is a professor emeritus of the Physics department, so revered by the students, that every time he enters the room at a Physics seminar, the students give him a standing ovation like a rock star. The whole department clearly gets along well, and enjoys each other. The atmosphere is full of camaraderie and a light sense of humor.
Our daughter is the only freshman who landed herself a desk in the "Physics Lounge," which is a bastion for upperclassmen. She does her studying there instead of her room or at the library, and can leave all her textbooks in the department without having to haul them around. You can see photos of that below as well.
Additionally, there is a photo of our daughter's Physics classroom; it is not a lecture hall– there are maybe fourteen seats? The individual attention available on a regular basis at this college is amazing. But the expectations are high and the homework load is heavy. She says she spends about 18-20 hours a week on just this one class, and she has four other classes as well.
After lunch, we checked out the art museum. My favorite three paintings that we saw are shown below… I suppose I should rave about the Rembrandt, but I like these three better. The Bible in the photo dates back to 1540…
We then headed over to watch Quidditch. Quidditch is a game played in the Harry Potter books, of which all my kids are fans. It looks slightly ridiculous running around with brooms between their legs, but I could see that it is a load of fun, and quite harmless without any overtones of witchcraft or wizardry, in case any of you are wondering. I'm glad our daughter is getting outside and playing; the running around I'm sure does her good and clears her head.  They have already had an "away game" on another campus several hours away. Our daughter is in several other clubs as well, including the Society of Physics Students, a math games club, a self-defense club, and others.
Since we watched our daughter and her roommate play Quidditch in the cold rain, we hung out with them in their room the rest of the afternoon, trying to warm up under blankets, and having a rambling conversation about nothing in particular. It was good just to spend some time together. I was touched that she had the advice I sent her posted on her bulletin board.
We went to dinner on campus together, and the friend group introduced their parents to each other, so the parents ate together, leaving the kids to eat separately. The parents all shared how and why our kids were drawn to this school, and we all had similar stories as well as values. We all affirmed each other's appreciation for this school.
Then after dinner, we said goodbye to our daughter, as she was getting ready for the homecoming dance that evening. We went to a terrific magic/comedy show done by Michael Kent before heading off campus.
We left filled with gratitude, and praying for continued blessings for this daughter, her education, and her school.