Book Review: The Bookseller of Kabul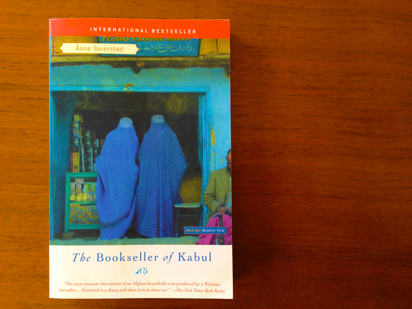 I wouldn't say this book is enjoyable, but it certainly is enlightening. It gives you a glimpse of everyday life before, during, and after the Taliban rule in Afghanistan.
Here, you will learn how the Taliban removed any face resembling a living thing, down to pictures on shampoo bottles and children's dolls. You will learn that kite-flying is outlawed because seen as wicked as a serious crime. You will get on the inside of a New Year's celebration, and go with the women to the baths. You will hear tell of the carbon monoxide poisoning that happens during traffic jams in the mountains in long tunnels that have no ventilation, when one is stuck and unable to exit. You see the stark living conditions even among those considered prosperous, with six sleeping together on the floor of one room.
You will learn what it feels like to wear a Burka; women in Afghan society are literally vitamin D deprived because their skin never sees the sun, and shoes become terribly important in a world where neither hair nor face, figure nor clothing can be seen. Men get the meat and women eat rice and beans. Women pray to have sons, and having daughters gives cause to shame and embarrassment. You see the dire consequences for a woman seen on a park bench with a man. Several times the reader witnesses the courtship of brides, which amount to the haggling over a purchase price, and in which the bride has no say. Thirteen year olds are married off to old men because they have more money. Second and third wives are not uncommon. Often those getting married will first meet at the engagement party, even though they marry within their extended family.
Life is full of drudgery for almost everyone. If you have been taking your western lifestyle for granted lately, reading this book will be a cure for it. Patterns in Afghanistan are so intrenched that many prayers are needed to turn the tide. I give this eye-opening book, written by a Norwegian correspondent who was allowed to live within the bookseller's family, four stars. You will not soon forget it.