Recipe: The Perfect Snowy Day Soup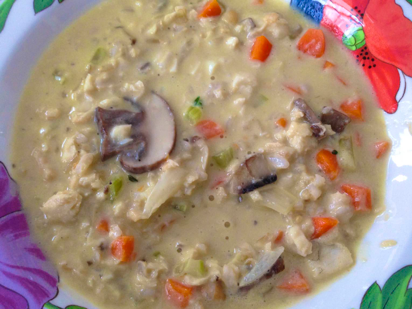 This soup is perfect for a snowy day like today. I use vegetable broth and tilapia in mine, but my husband and daughter like to add chicken to the leftovers when they warm it up for themselves. You might want to make it with chicken broth and chicken and skip the tilapia. Whatever way, this is a heart-warming, easy to make soup that is great to warm up the toes of shovelers and sledders alike, or to eat fireside for dinner followed by a good book. Give this quick and cozy soup a try!
1 Tablespoon olive oil
8 ounces of boneless chicken chunks or 4 tilapia filets (or both)
Salt and pepper
2 tablespoons of butter
5 garlic cloves, minced
8 ounces cremini mushrooms, sliced
1 onion diced
4 carrots, peed and diced
2 stalks celery, diced
1 Tablespoon fresh thyme leaves
1/4 cup all purpose flour
4 cups stock (chicken or vegetable)
1 cup cooked leftover rice
1 bay leaf
1/2 cup cream or half and half
2 Tablespoons fresh parsley leaves (garnish if desired)
Heat olive oil in large pot over medium heat. Season chicken and or tilapia with salt and pepper, and add to the pot, cooking until either the chicken is golden or the fish flakes and falls apart (about 3-5 minutes). Remove from the pot and set aside.
Melt the butter in the pot over medium heat, and add the garlic, mushrooms, carrots and celery. Cook until tender, stirring occasionally (about 5 minutes.) Stir in thyme until fragrant (about 1minute).
Whisk in flour until lightly browned (about one minute), and then whisk in stock, rice, bayleaf, as well as the chicken and/or tilapia you set aside in the first step. Whisk constantly until slightly thickened (about 5 minutes).
Stir in cream (or half and half) until heated through (about 2 minutes) and season with salt and pepper as desired.
Serve immediately with parsley garnish if desired.
Enjoy!