Recipe: Avocado Crema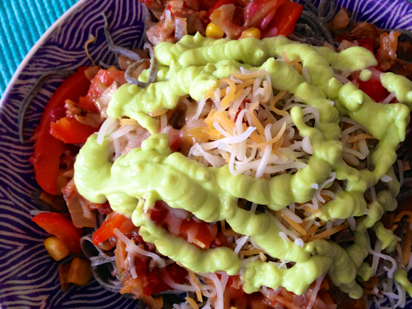 Who doesn't want a new way to enjoy avocados? This is simply delicious and very easy to make. It brings avocados into the realm of a condiment!
In the photo above I used it on top of my lunch yesterday of Southwestern Black Bean Noodles, but it would also be great on loaded nachos, quesadillas, burritos, chili, burgers, or any Tex-Mex casserole. I suppose it could also be used as a salad dressing. Make this yummy concoction and experiment with what you like it on the best.
It is full bodied because of the yogurt and not very runny so I put it in a squirt bottle to be easy to use. If you don't have one, put it in a ziploc and cut off a tiny bit of the bottom tip of the bag to squirt it through like you might do with icing, then store that ziploc bag in another one in the refrigerator.
1 ripe avocado, seed and skin discarded
1/2 cup organic Greek yogurt
Juice of one lime (2 Tablespoons or less)
2 garlic cloves (three if they are small)
3 Tablespoons of good quality olive oil
1/4 teaspoon sea salt
1/4 teaspoon of freshly ground pepper
Put all the ingredients into a food processor or blender and whir until smooth.
Enjoy!