Moosewood Restaurant at Last!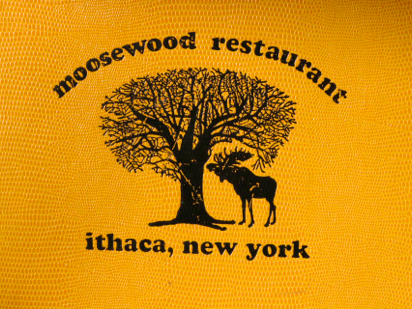 One of the things that has been on my bucket list for a long time has been to visit the Moosewood Restaurant in Ithaca, NY, since for over three decades I have made their recipes. Today I went with our youngest daughter.
We got there fifteen minutes before they opened at 5:30. When they opened and began seating people they were instantly full. If you came at 5:30, you were in store for an hour wait. It was incredible to see all these congenial people.
Their menu is limited to about four different entrees each meal, which constantly change. I was surprised that I ordered salmon. Like me, Moosewood is primarily vegetarian but has eventually incorporated fish. The salmon, marinated in buttermilk and encrusted in pecans (which came with steamed Brussels sprouts and capered red rice) sounded perfect after an exhausting day. The salad dressings were particularly terrific; I had the spinach/basil and Laura had feta/garlic. Everything was delicious. I also had strawberry lemonade and one of their signature brownies, while Laura had ginger beer and mango ice cream.
The ironic thing is this meal tasted like a home-cooked meal: it was similar to something that I would make. We liked the straightforwardness and lack of pretension. Away from home for many days it can be especially fun to eat your own cooking prepared by someone else!
They sell 16 cookbooks of their food and it was odd to see them all in one place…