Texas Sheet Cake (Recipe)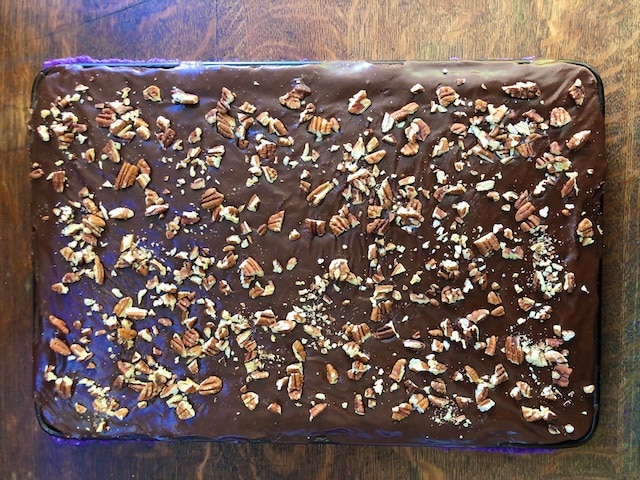 I wasn't planning on posting this, but some of you have requested this recipe after seeing it or eating it at my art show opening. I used to make Texas Sheet Cake on a regular basis back in high school every time there was a band party. Ironically, I've been married to a Texan now for over 30 years, and he had never made it until this week.
The beautiful thing about this recipe is that it happily feeds a crowd.
The essential thing for a good, moist, Texas Sheet Cake is for the icing to soak in immediately into the warm cake. As soon as the cake comes out of the oven, pour the warm frosting over the cake, and use a spatula to spread it to the edges. This is what creates the special fudgy layer between the icing and the cake.
You can cut it in whatever size you want. Have it on a potluck buffet for people to take however big a piece as they want, or cut 3″ squares for nice single servings, or in cut it up in tiny chunks for finger food as we did for my show.
It'll be good for about two days, so you'll need some help getting through it. But having so much to share indiscriminately is part of the fun.
It really does need two hours to cool and set, so plan that into your timing. We usually make it a day ahead of the occasion we made it for.
Texas Sheet Cake Recipe
Cake
2 cups all-purpose flour
2 cups granulated sugar
1/2 teaspoon baking soda
1/2 teaspoon salt
2 large eggs plus 2 large egg yolks
1/4 cup sour cream
2 teaspoons vanilla extract
8 ounces semisweet chocolate chips
3/4 cup avocado oil
3/4 cup water
1/2 cup Dutch processed cocoa powder
4 tablespoons butter
Chocolate Frosting
8 tablespoons butter
1/2 cup heavy cream
1/2 cup Dutch processed cocoa powder
1 Tablespoon maple syrup
3 cups confectioner's sugar
1 Tablespoon vanilla extract
1 cup pecans, toasted and chopped
Toast the pecans in a dry skillet over medium heat, shaking the pan a bit, until golden and fragrant, about 5 minutes.
Adjust the oven rack to the middle of the oven and preheat to 350ºF.
Grease a 13'x18″ rimmed baking sheet with butter.
Combine flour, sugar, baking soda, and salt in a large bowl.
Whisk eggs and yolks, sour cream, and vanilla in another bowl until smooth.
Heat chocolate chips, oil, water, cocoa, and butter in a large saucepan over medium heat, stirring a bit, until smooth, about 3 to 5 minutes.
Whisk chocolate mixture into flour mixture until incorporated. Whisk egg mixture in as well, and then pour into the prepared baking pan. Bake until a toothpick inserted into the cake comes out clean, about 18 – 20 minutes. Transfer to a wire rack.
About 5 minutes before the cake is done, heat butter, cream, cocoa, and maple syrup in a large saucepan over medium heat, stirring until smooth. Take it off the heat and whisk in the confectioner's sugar and vanilla. Spread warm icing evenly over hot cake and sprinkle with pecans.
Let cake cool to room temperature on wire rack about 1 hour, then refrigerate until icing is set, about 1 hour longer.
Cut it up and serve. Enjoy!