Visit to Bowdoin College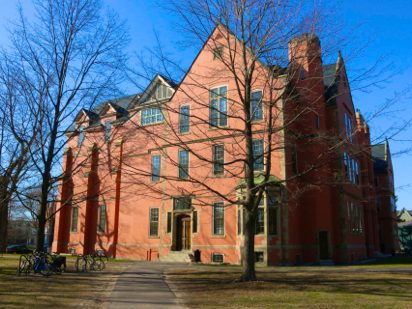 We toured Bowdoin College in Maine today and liked it. They do not have an engineering school but have a strong science program with a 3-2 option to finish at Dartmouth Engineering school. This would give our daughter the coursework in science she wants without ruling out the option for engineering school in the future.
We had probably the best info session here that we've had anywhere, given by the actual dean of admissions. He advised against applying early and recommended we read his article called The Early Decision Decision. Bowdoin is hard to get in and very expensive, but it has very deep pockets and gives out grants instead of loans so anyone can afford to go here. This school was around when George Washington was president, and their most famous alumni is the poet Longfellow.
This is the Offer of The College:
To be at home in all lands and all ages;
To count Nature a familiar acquaintance,
And Art an intimate friend;
To gain a standard for the appreciation of others' work
And criticism of your own;
To carry the key's of the world's library in your pocket,
And feel its resources behind you in whatever task you undertake;
To make hosts of friends…
Who are to be leaders in all walks of life;
To lose yourself in generous enthusiasms
And cooperate with others for common ends–
This is the offer of the college for the best four years of your life."
This rings as great for our daughter on many levels as she is one to lose herself in generous enthusiasms! Here she could study art and music along side her science, which she is unlikely to be able to do in an engineering school. People here are interested in multiple things–like our daughter is – and they are able to explore them, getting breadth without sacrificing depth. There are majors mixing things like Oceanographic Science with Physics, which sound good to her. They have Arctic Studies and do bird migration research on the Bay of Fundy, which sounds good to her too.
There is a lot of flexibility in coursework and many research opportunities. With the great student/teacher ration, there is excellent potential for real mentorship relationships with professors. Also there are ardent outdoor activists which would have her hiking, kayaking, and skiing, which she would love to do.
The salmon colored building above houses the physics department, which is what our daughter particularly cares about. You can see in some photos below of what it looks like inside; it is surprisingly modern, with steel stairs and beveled prismatic glass casting shards of rainbows about.
All students live on campus and the food is #1 in the country. Our daughter is very much a foodie and this fact is appealing to her. We ate dinner on campus to test it out and she would actually be able to eat here, which would be nice. (It may sound silly, but she'll do a lot better if she can eat!)
Besides, she wants to be in the north and adores Maine; she would love to be in this state and grow roots here.