Recipe: Parmesan Roasted Cauliflower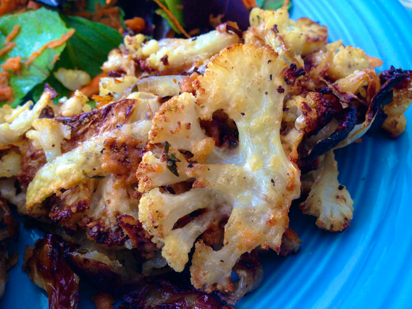 This hits the spot any time of year. Easy and delicious, you'll love it! I adapted this recipe slightly from Molly's on her blog Orangette, with a little more garlic and thyme, and a sweet onion instead of a regular one, but the directions here are all hers. Yum!
One word of caution: don't slice the onions too thinly here, or they'll be more likely to burn. I'd aim for ½-inch-thick slices, if I were you.
1 head cauliflower, trimmed
1 sweet onion, sliced
5 thyme sprigs
6 whole garlic cloves (or if they are enormous cut in half)
3 tablespoons olive oil
Kosher salt
Freshly ground black pepper
grated Parmesan
Preheat the oven to 425°F, and line a rimmed sheet pan with parchment.
Place the cauliflower on a cutting board, and slice it top-down into roughly 1/3-inch slices. Some of the slices will crumble, and that's fine. Scoop all of the cauliflower into a large bowl, and add the onion, thyme, garlic, and olive oil. Toss well. Season to taste with salt and black pepper.
Arrange the mixture in a single layer on the prepared sheet pan. Roast, tossing occasionally, until the cauliflower is mostly tender, golden brown, and caramelized at the edges, 25-30 minutes. Take the pan out of the oven, and grate a generous amount of Parmesan over the vegetables. (The original recipe calls for ½ cup, but I didn't measure mine; I just eyeballed it.) Return the pan to the oven, and continue to roast for another 5 or 10 minutes. You're basically cooking it to eye: you want the cauliflower to be nicely caramelized, but you don't want the onions to burn.
Serve hot or at room temperature.