I Painted These Two Still Lifes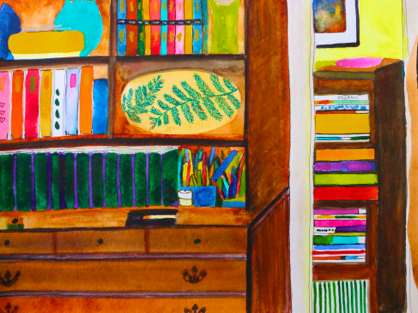 As part of my New Year's project, I'm giving myself some self-directed painting exercises. Since I am a photographer, I'm interested in a more stylized approach to painting than a photorealistic one, but I thought some representational exercises might be a growing experience. I'm not spending very long on these; they are quickly done in freehand, and are designed to capture an immediate essence without a lot of effort.
I jumped right into this plan and started with painting still lifes. I chose this because I have done very little of that in the past, usually choosing representational subjects of either landscape or nature before anything manmade or interior. Also, given the cold, snowy season this recent emphasis has made sense.
So here are my first two attempts at still life. The first one above is my view from our dining room into the hall; the assignment I gave myself here was to paint a still life that emphasized "line." The one below featured "analogous color." I think next I'll be tackling a still life whose composition is united by reoccurring, similar shapes.
Sometimes it is fun to challenge yourself and work within constraints!