Art by Robert Sauber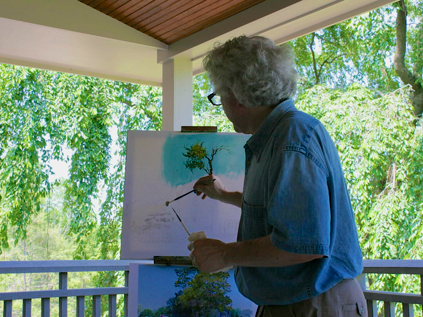 Robert Sauber is an accomplished artist who did the paintings of the New Pond Farm cows below.  You can check Robert's work out on his website here.  New Pond Farm hosted him doing an art demo which I attended. Here are the highlights:
First, I was intrigued that he neither uses linseed oil nor any kind of medium in his oil painting.  He just uses odorless turpentine like it is water, which loosens his oil paints to the texture of watercolors, and uses watercolor brushes to apply this minuscule amount of paint.  He says doing it this way the painting dries in two days.  (This could open a whole new range of possibilities for me and possibly save me money on paint!)
Secondly, he described a numbering system he uses for the objects in his paintings. The viewer should always be able to tell what the #1 object in the painting is and will be drawn to look at that first, then they'll look at #2 and #3. He plans out in advance what will be #1, #2, #3, etc, before starting the painting and always begins by painting #1 first so everything else in the painting will be painted in relation to it. He paints on top of a loose sketch and does no underpainting.