What We Eat in a Week at Our House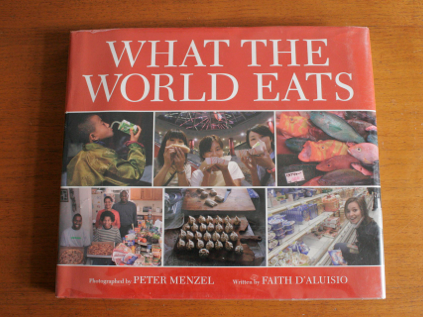 After reading the above book (you can read my blog of What the World Eats here) last January, I have been noticing how our family's consumption compares with those of the family's shown in that post. I decided to choose a week and photograph all the food I bought in one week.
This was not a perfect test, because we didn't get through all the food I bought in the week photographed; for example we splurge on that expensive smoked salmon only occasionally; likewise I don't buy mustard or vinegar every week and that bread will take us two weeks to eat, etc. Also, in the week in question, we ate some tilapia we had frozen from a Costco trip. On busier weeks we skip the grocery store altogether and eat things prepared and frozen out of our garden last summer. We eat out very rarely, and in the week shown below not at all. I think we probably eat more fresh food and less processed food than most folks. Additionally, keep in mind that we've got a teenager in the house; for every salmon filet we eat, she eats two. So you get the idea: the photos shown below are merely an approximation of what the three of us eat/buy in an average week.
The first photo is what we bought from Ridgefield Organics, where we go every Sunday on the way home from church.
The second photo is what we bought at Trader Joe's, where we go every Tuesday after our daughter's ballroom dance class.
The third photo is what we bought at the large grocery store around the corner from us; we go there only occasionally to buy stuff unavailable in the other places we shop regularly, or if we unexpectedly run out of an ingredient we need.
And the fourth photo is from our weekly stop at New Pond Farm where we get local eggs (recycled cartons) and milk.
How does this compare to what you eat and buy? It is a lot less and very different than the Americans depicted in the book above, but it seems like an abundance when you lay it all out.