All the Kids Home for Thanksgiving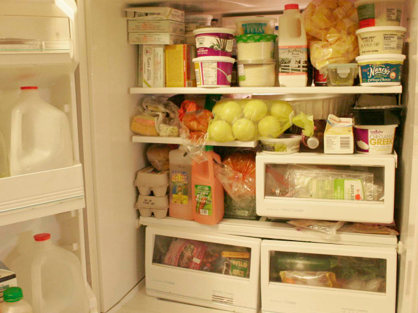 Our refrigerator is crammed; yes, that's seven pounds of butter you see, and four dozen eggs.  All the kids are home for Thanksgiving, which is a wonderful treat for us!
Our oldest daughter is a senior at St. John's College is Annapolis, where she is reading Kant and Adam Smith, as well as Tocqueville's Democracy in America.  She's contemplating her next steps and is applying to grad schools in Public Policy as well as filling out job applications. She's ramping up to writing her big senior thesis which is due at the end of January. Her topic is the rights and responsibilities of citizens in a democracy; she's interested in what leads to civic engagement and what detracts from it. Regarding extra-curricular activities, she continues to be in charge of throwing the campus wide waltz parties, is secretary of the campus government, is an Ancient Greek tutor, and is one of five national Christian Science Regional Reps for college organizations.
Our son is thriving in his first semester at Swarthmore, taking Calculus, Physics, American Democracy, Economics in Developing Countries, and two engineering classes.  When asked if he landed on the right college campus, his enthusiastic reply was, "Unequivocally!"  He's designed a clock in CADD which he's printing off on a 3D printer for an engineering class, and his Poli Sci teacher has recommended him to skip up to classes reserved for upperclassmen. He's playing tennis, is on the Quiddich team, is in a Sci Fi club, and has a campus job cooking in his dorm on weekends.  It is great to see him so happy and satisfied.
Lately our youngest is into working on electronics experiments, going to pottery and ballroom dance classes, and writing a fantasy for NanoWriMo (National Novel Writing Month.) Her bead creations are right now in their first adult level show, she's loving taking pictures with her new camera, and she's just back from an intense weekend of classes for teens at MIT.  Just when she has gotten used to having her parents and the house to herself, her two energetic siblings have arrived from points south.
I'm so grateful for these three kids.  I'm grateful for their health, safety and protection, for their involvement in worthy pursuits and their ability to make good choices. I'm grateful for the beautiful husband that made this family possible!
I'm also grateful for divine Love and for all of you!  Happy Thanksgiving!