Winning Hearts and Minds Cake: aka Flour-less Chocolate Cake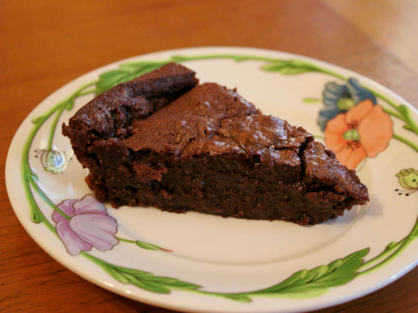 This recipe is from this cookbook that I blogged about and gave five stars. The author made gobs of this cake for her own wedding– she liked it that much.  It is what others would call a flour-less chocolate cake, although it has a whole tablespoon of flour in it.  It is intensely delicious, and very easy to make.  We're having this as an alternative to pumpkin pie on Thanksgiving, but it is also great for potlucks or housewarming gifts…

Flour-less Chocolate Cake recipe
7 oz bittersweet chocolate (60 – 70% cocoa), finely chopped
1 3/4 sticks of butter cut into 1/2 inch chunks, plus more for preparing the pan
1 cup plus 2 tablespoons granulated sugar
5 large eggs
1 tablespoon unbleached all-purpose flour
Preheat oven to 375˚F.
Butter an 8-inch round cake pan; line the bottom of the pan with parchment paper and then butter the paper, too.
Put butter and chocolate in a microwaveable bowl and microwave on high for 30 seconds at a time, stirring often until smooth.
Add sugar, stirring well, and allow to cool for 5 minutes. Then add eggs on by one, stirring each one in well. Add the flour and mix well. "Batter should be dark and silky."
Pour the batter into the prepared pan and bake for 25 minutes, or until top is lightly crackled, the edges are puffed, and the center looks set (jiggling only slightly if at all.)
Cool on a rack for 15 minutes.
Carefully turn it out of the pan onto an extra plate upside down. Remove the parchment paper. Then flip it onto the serving plate, so the crackly side is up.
Cool completely before serving. Optional: Sift a bit of confectioner's sugar on it to make it prettier and more festive!
Enjoy!