Recipe: Our Favorite Green Soup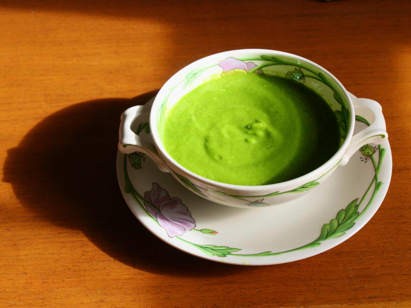 Happy St. Patrick's Day!
Not being a corned beef and cabbage person, I saved our favorite Green Soup recipe to share with you today for some festive food! We eat it all year long, but since it is uncooked fruits and veggies, it is especially great in spring and summer. It is a fresh, light compliment to anything, or very light and refreshing on it's own! (Below you can see it paired with Italian lentils & fennel, and then with veggie sausages with whole wheat pretzels…) The flavor is simply wonderful and you can't beat this delightful shade of green. It is also quick to make and charged with nutrients!
This recipe originally came from the Moosewood Restaurant Cooking for Health cookbook, but we have adjusted it slightly. I bought a package of dried seaweed just for this recipe, which I initially thought was really expensive ($8) but as we love this soup and make it often, I now realize at a half teaspoonful at a time it'll take us forever to get through this and that it was well worth the investment. Photos of both the cookbook and my package of dried seaweed are also below.
St. Patrick's Day Soup
1 cup water
1 cup orange juice
1/4 cup lemon juice
1 avocado (removed from peel & pit)
1 apple, peeled and cored
1 cucumber, peeled
8 ounces fresh spinach (large stems removed) about 4 cups
1 scallion, chopped
1/2 teaspoon ground dried seaweed (Wakame, Dulce, or Arame)
1 teaspoon light miso
pinch of sea salt
1 garlic clove, minced or pressed
Whirl all ingredients in a blender until smooth.
Makes 4 servings 1 cup each.
Yum! Enjoy!