Recipe: Jicama Slaw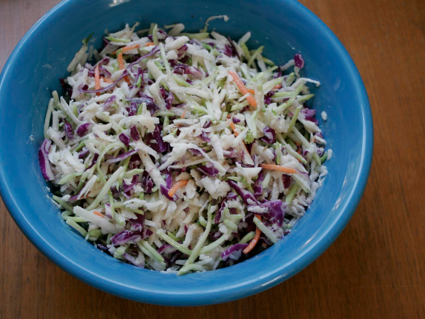 This is a delicious summer side dish. In the years past, I used to make it with a store bought cole slaw dressing, before I got committed to no high fructose corn syrup and no unpronounceable ingredients. So here is my improved version with a dressing from Julia Child…
Jicama Slaw Recipe
1/2 jicama, peeled and grated
1/2 package broccoli slaw (our comes with bits of carrot in it)
1/2 package chopped red cabbage
Dressing:
1 Tablespoon Dijon mustard
3 Tablespoons cider vinegar
1 teaspoon salt
1 teaspoon sugar
1/4 teaspoon caraway or cumin seeds
1/4 teaspoon celery seeds
1/3 cup sour cream
freshly ground pepper
Mix together well and let stand 30 minutes in the refrigerator before serving.
This is great for company as it can be done ahead of time. Also the leftovers are delicious straight from the fridge. Refreshing!