Book Review: Toward a True Kinship of Faiths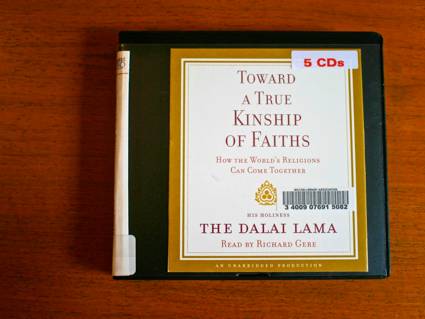 I really value what the Dalai Lama is trying to do here. Living in India, where many religions have been coexisting harmoniously for centuries, he highlights his understanding and appreciation of each tradition in turn, underscoring their overlapping commonalities. Even though there are fundamental differences between the theology of the various faith traditions, he finds a complete convergence on what it takes to LIVE VIRTUOUSLY and to PRACTICE any religion. He makes a good case that the features all religions share are:
Compassion

the Golden Rule

the ethics of restraint
While I really enjoyed listening to this book, I find I can only give it 4 stars, because how Christianity is identified does not correspond closely with what makes me a Christian. The Dalai Lama got many of his impressions about Christianity from his esteemed friend Thomas Merton (whom I respect and whose complete works I have read and enjoyed.) However, when the Dalai Lams makes sweeping statements and gross generalizations about Christianity that do not apply to me as a Christian, it makes me wonder what impressions of other religions are innocently misrepresented here as well.
This book made me want to share Christian Science with the Dalai Lama; I think he would thrill to it in all its implications. We certainly go in big for his three point program above, getting deeply into the why, the how and the wherefore of it. (See a recent Christian Science magazine cover blow as an example…) I may have to try to find a way to send him Science and Health with Key to the Scriptures, and strike up a friendship with him as well!
Anyway, I applaud and share the Dalai Lama's open-hearted desire for all of God's varied children to live together in peace. He in his sphere and me in mine (and you in yours), we are all working together toward the same harmony. This is both exciting and reassuring!