FREE Internet Education: Khan Academy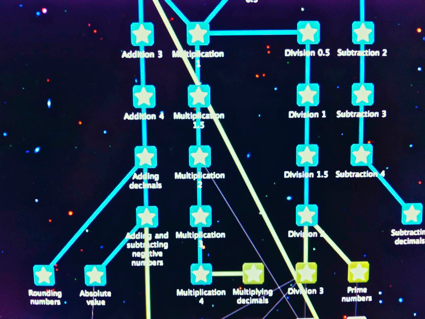 Here is an idea whose time has come. I thought most people knew about Khan Academy, but I've realized they don't. So this is for those of you that don't know what you are missing!
This is good internet education that is FREE. Salman Khan, with his three degrees from MIT and a Harvard MBA, started to tutor his cousins in math remotely. He'd post YouTube videos on topics for them to watch and they went viral. Eventually, Sal left his job to do this full-time, and with funding from the likes of Bill Gates, then hired some college buddies to assist with everything but the actual teaching. His part is continuing to grow the video library from a converted closet off his master bedroom. There are now over 2100 tutoring videos on math and science, and eventually he hopes that there will be "everything."
There is a lot to love about Sal's style of teaching. He is informal and unpolished. It truly feels like your cousin is teaching you off the top of his head. You do not see his talking head, however, but only hear his voice and watch him scribble in color on a black background. He says he teaches the way he wishes he had been taught, and it works. His long term goal for Khan Academy is for it to become "the world's first free, world-class virtual school where anyone can learn anything–for free." He is actively pursuing getting it translated into every global language.
The above screen shot of mine shows a tree of math problems starting with addition and progressing all the way through Calculus 4. If you do ten in a row right, you are allowed to proceed to the next level. If you are having trouble, you click on the relevant video and watch it before trying again. This is great for students learning the material for the first time, or as review for math geeks like me. It is more fun than Soduku, to be sure.
But you can also access directly the list of videos if you need to quickly brush up on something specific. Unsure about logarithms, or sine and cosine? Fuzzy about certain Chemistry topics when studying for your AP exam? You can fill those holes that trouble you without anyone ever noticing you didn't know it.
Not only is this product and its effect wonderful, but the guy behind it is too. He can't imagine any better use of his time. When asked why he offers this for free instead of making money he says, "I've been approached several times, but it just didn't feel right. When I'm 80, I want to feel that I helped give access to a world-class education to billions of students around the world. Sounds a lot better than starting a business that educates some subset of the developed world that can pay $19.95/month and eventually selling it to some text book company or something. I already have a beautiful wife, a hilarious son, two hondas and a decent house. What else does a man need?"
I especially love this response when he was asked what ethnicity/ religion he was, "I was born and raised in New Orleans, Louisiana. My mother was born in Calcutta, India. My father was born in Barisal, Bangladesh. If you believe in trying to make the best of the finite number of years we have on this planet (while not making it any worse for anyone else), think that pride and self-righteousness are the cause of most conflict and negativity, and are humbled by the vastness and mystery of the Universe, then I'm the same religion as you." I'm happy for this guy to teach the world!
Check out below his talk on TED, and below that, see his overview of topics on Khan Academy. Or go straight to his website by clicking here. Enjoy!