Recipe: Lentil, Sweet Potato and Coriander Stew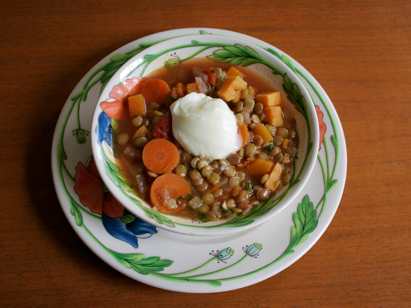 This easy to make vegetarian stew makes a nice winter lunch with enough staying power to get you through a long afternoon. See photos below for the stew at different stages. (This recipe came from Jillian Michael's cookbook…)
Lentil and Sweet Potato Stew
2 tablespoons olive oil
1 medium red onion, chopped
2 celery stalks, chopped
2 medium carrots, chopped
1 garlic clove, minced
1 teaspoon ground coriander
1 teaspoon ground cumin
1 pound dried brown lentils, picked over and rinsed
1 bay leaf
1 large (or 2 small) sweet potato (about 1 pound) peeled and cut into 1/2 inch dice
1 (14 oz) can low sodium diced tomatoes
1 tablespoon fresh lemon juice
1/2 cup fresh cilantro leaves, chopped
1/2 teaspoon salt
1/4 teaspoon ground black pepper
8 tablespoons plain low-fat yogurt, for serving (optional)
In large saucepan heat the olive oil over medium heat. Add the onion, celery, carrots. Cook, stirring occasionally, until the vegetables are softened, about 6 minutes. Add the garlic, coriander, and cumin, and cook until fragrant, about 30 seconds.
Add the lentils, 7 cups of water, and the bay leaf. Bring to a boil, reduce to a simmer, cover ad cook for 10 minutes. Add the potato and continue to cook, covered until the lentils and sweet potato are tender, 12 to 15 minutes.
Stir in the tomatoes with their juice and cook until warmed through, about 4 minutes. Remove and discard the bay leaf. Stir in the lemon juice, cilantro, salt and pepper.
Spoon into bowls and top with a tablespoon of yogurt if desired.
Makes 8 servings.