Book Review: Priceless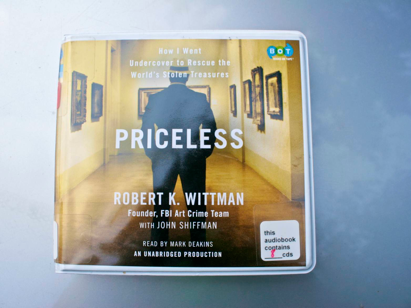 More than 6 billion dollars worth of art is stolen each year. This book is the remarkable memoir of an undercover FBI investigator who tracked down lots of it, but not as much as he wanted to.
Art theft is not as difficult as trying to sell the works after stolen. Even when one bides his time for decades, this is not easy. Their value on the black market is only 10% of what their open value is, but as art prices on masterpieces rise, art theft becomes all the more lucrative. But selling these albatrosses is tricky, as you may be dealing with cops. Or will you? Robert Whitman, an art crime expert, has retired from the FBI without a replacement.
Felons who are caught get very light sentences. The man who stole the Mona Lisa in 1911, for example got six months in prison. More recently, rampant con artist appraisers on Antiques Roadshow got only months as well. And criminals reading this book have a pretty detailed outline of how a sting goes down. Now, if I was a criminal, I'd know some concrete things to avoid, so as not be so vulnerable to a bust.
It's pretty clear from this book that agencies like the FBI are not nimble enough and too bureaucratic to bring down the erratic big players in this scene. Art thieves commonly cross many international lines and then too many countries are involved, all wanting a piece of the glory of the seizure. Eventually, competing interests bungle the big leads. Like policing international fishing waters, art crime may need to be handled on a whole different level beyond national agencies.
Unfortunately, this is unlikely, because art theft is not a priority since it is considered a "victimless crime." But more people go to museums than professional ballparks. What is the price to society of having these masterpieces languishing in the hands of thugs instead of on public view?
This four star book was fascinating, but I also found it disturbing.