Recipe: Ranger Katy's "Puffy Oven Pancake"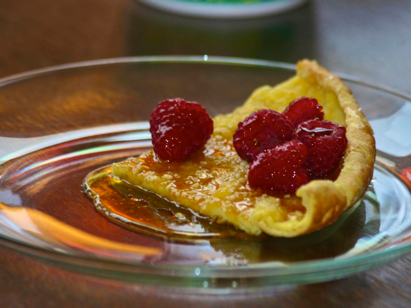 We have some awesome friends. One of them is Ranger Katy. My youngest daughter and I got to know her seven years ago, when we were dropped off to camp for three weeks on a remote island in Lake Superior (which incidentally had the largest black bear population in the lower 48 states.) Katy was our contact with humanity there and a complete gift from God. We've stayed in touch over the years and have subsequently visited her in Rocky Mountain National Park, where her job for the Park Service was mounted patrol of the back country.
We were thrilled to get to see her again, this time in Yellowstone. She spent time with us every day we were in the park which was especially impressive since she was getting married at the end of the week! We were so honored by her attention. This recipe she made for us one sleeting morning, two days before her wedding, when we borrowed her shower. Both the hot water and this recipe were delicious!
At the very bottom, you can see her wedding picture; she got married in Yellowstone's Thorofare, in the southeast corner of the park. Thirty-three miles from the nearest road, it is the most remote place in the lower 48; her whole wedding party packed in on horses. Anyway, here is a wonderful favorite recipe from a great person!
Puffy Oven Pancakes with Berries
(from the Betty Crocker Comfort Food Cookbook)
2 tbsp butter
3 eggs or six egg whites
1/2 cup all-purpose flour
1/2 cup skim milk
1/4 teaspoon salt
2 1/2 cups of assorted fresh berries
powdered sugar
Heat oven to 400˚F.
In 9 inch pie plate, melt butter in oven, then brush butter over the bottom and side of the pie plate.
In a medium bowl, beat eggs slightly with wire whisk or hand beater. Beat in flour, milk, salt just until mixed (do not over beat.) Pour into pie plate. Bake 25 -30 minutes or until puffy and deep golden brown. Serve pancake immediately topped with berries and sprinkled powdered sugar. Add maple syrup… mmmm…