Book Review: The Rodale Whole Foods Cookbook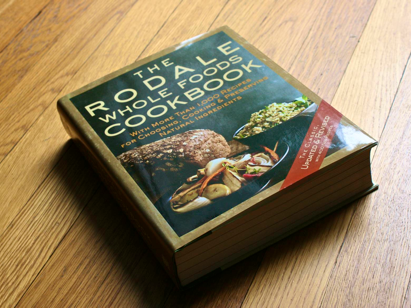 I don't usually buy cookbooks, unless I find ones I want at library sales. Usually I check out cookbooks from the new books collections of libraries and find a couple recipes worth trying, which I copy into my ever-expanding collection.
Similarly, I checked out this book, but before I had looked at one quarter of the book, I already had over 30 sticky tabs sticking out of it. Things like Edamame Dip, Grilled Eggplant & Mozzarella Rolls, Sesame Ginger Sauce, Spinach-Tofu Puffs, Leek/Fennel/Yogurt Soup, Spinach & Wild Rice Soup w/ Pumpkin Seed Pesto, Grapefruit-Broiled Salmon, Maple-Marinated Grilled Salmon, Nicoise Salad Wrap… There was so much good here – it was worth both the money and shelf space – so I bought the book.
If you are unfamiliar with Rodale, they started Organic Gardening Magazine back in the 1940's just when the toxic fertilizers were coming into use. These folks have been on the bandwagon of local, organic, fresh, whole food longer than anyone else in modern life. They've been focusing on eating this way for a long time and have a huge head start on ways to enjoy this lifestyle. This cookbook fuses together sound healthy nutrition with culinary delight.
If you need photos on every page however, this book will disappoint. But I've checked out so many gorgeous cookbooks with great photographs, but which contained nothing I'd want to make or eat, that I forgive them this. At 710 pages long, there are only 32 pages of photos; how long would it have been with more? What you get instead is charts of the amount of protein in various plant sources, a guide to prepping various vegetables, a guide to cooking dried beans, peas and lentils, information on freezing precooked foods, a list of foods that do not freeze well, information on canning and drying food, on top of tons of great recipes.
So consider checking out this five star cookbook; I'm looking forward to experimenting with it!