Book Review: Half Broke Horses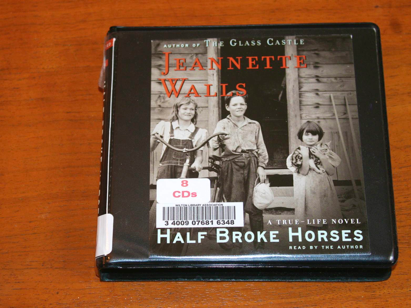 I own (but have not yet read) Jeannette Wall's blockbuster novel The Glass Castle, and since she's recently written this prequel, I thought I'd start here. I'm glad I did, and now I'm primed to read the other.
This is a story of the author's gutsy grandmother, set in the early 20th century, mostly in the rugged southwest. This woman knew how to survive whatever confronted her and also knew "how to get things done." This is a story about a woman with a can-do attitude; she's an inspiring role model of never giving up fighting for what she believes in. Her tenacious but flexible willingness to work as hard as necessary to make her dreams a reality does her credit. We could all use being fueled with some of her gumption, I think, and it made me want to role up my sleeves and get on with what I need to do whether I want to or not, which is good!
I give this book four stars. It was a well written quick read with plenty of action and a colorful main character. I felt the book was a little unfinished, which is why maybe the horses are only "half broke," but I'm imagining resolution is offered up in the book I haven't read yet. And maybe, try as we might, our work is never done. Maybe that's the point; we've got to keep putting out the effort on whatever hand life deals us.