Book Review: Celebrate Your Creative Self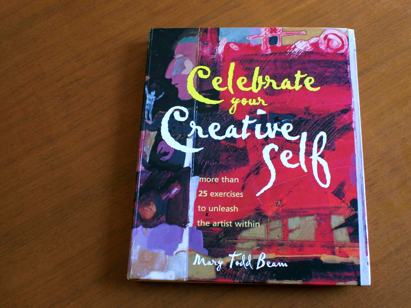 I really like this book a lot and give it a hearty five stars. It is wonderful to jump-start or freshen up your art if you are an experienced artist, but is also approachable enough to set the beginner totally loose, inducing them to soar. More than anything, it is total fun, without any overtone of being prescriptive. The demonstrations in here are to teach a technique without expectation that a reader will ever follow by rote; instead they are springboards for individual explorations that will all be delightfully unique.
It took me about three years to "read" this book because I refused to even look at a following exercise until I had done (in totally my own way!) the previous exercise. I liked my results of these exercises, some of which you can see by clicking here and here. But after every exercise, I was off and running with so many ideas to try that it took me quite a while before I was in need of returning to try the next bit. Thus, it took so long. Fortunately, Mary Todd Beam has published another book in the meantime, so I don't mind quite so much for this one to be over, as now I've got the new one to explore. But I know already that several years hence, I'll repeat my wonderful romp through this book and it will be totally different than last time!
This author is not only an accomplished artist, but an encouraging, easy going teacher, who completely understands that creativity is about exploring. She believes in the release of energy that comes from trying something different. She believes in the power of play and has set up a veritable playground for her students!
This approach was so easy to embrace and make your own that it was natural too, that my homeschooling daughter came to enjoy "doing" this book with me as well. It was quite entertaining and inspiring. This has become a favorite in my how-to art book arsenal. Either you or someone you know deserves this marvelous treat!