Recipe: Great Raw Slaw (with Kale)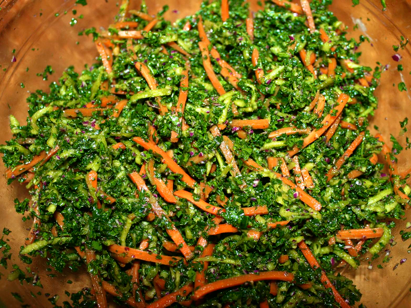 I'm very excited to finally have found a way to truly enjoy eating kale! How I wish I had this recipe last summer when the farm of our shared harvest program kept sending kale home; I am certainly glad to have this recipe now going forward! My learning curve here is that maybe the key to kale is mincing it in the food processor; pre-minced, I can imagine adding it to all sorts of things.
This is the first recipe I've tried from the new (to me) cookbook of the Moosewood Restaurant Cooking for Health cookbook. They title this dish as "Our Favorite Raw Slaw" on page 267. We agree with their assessment that it is "colorful, crunchy, and very tasty."
Kale Slaw recipe
3 tablespoons olive oil
2 tablespoons cider vinegar
1/2 teaspoon salt
1/8 teaspoon ground black pepper
1 1/2 teaspoons minced fresh thyme
a dash of cayenne
3 cups very finely minced kale, ribs removed
1 cup minced red cabbage
1 1/2 cups grated carrots (I used pre-julianned)
1 cup grated apples
In a cup whisk together the oil, vinegar, salt, pepper, thyme, and cayenne. Set aside.
In a bowl, toss the kale, cabbage, carrots and apples. Pour on the marinade, stir well, and let sit at room temperature for at least 30 minutes. Add more pepper and/or fresh thyme to taste.
Serve at room temperature or chilled.
See it in the first photo below coupled with veggie sausage casserole and an oat bran muffin, and in the second photo next to a salmon burger (glazed with wasabi mayo) and a side of juicy pear. This slaw could compliment well almost anything, and is a genuine delight to eat, very sprightly and delicious.
Who knew kale could be this good? Give this recipe a try and enjoy!