Recipe: Great Pumpkin Chili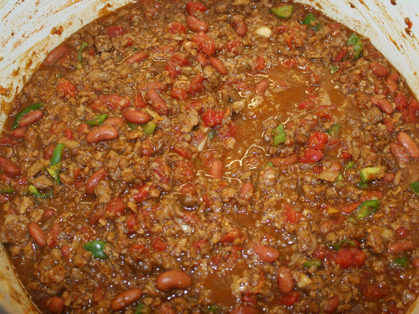 Thanks Glyna! Glyna is my husband's cousin's wife as well as a reader of this blog. A couple days ago she sent me this recipe and we are so glad she did! It is mild but wonderful and VERY EASY to make.
She tells me it originally came from the Gooseberry Patch's new cookbook Autumn with Family and Friends. Try making it and enjoy some effortless but hearty meals…
3 lbs. ground beef or ground turkey (we used organic textured vegetable protein, a soy based meat substitute)
(3)14 1/2 oz. cans of diced tomatoes
(2) 15 oz. cans of kidney beans, drained and rinsed
15 oz. can pumpkin
2 green peppers, chopped
2 onions, chopped
2 Tablespoons chili powder
2 Tablespoons honey
1/4 teaspoon cayenne pepper
1 teaspoon salt
Brown ground beef (or turkey or TVP) in a large pot over medium heat, stirring to crumble and drain if necessary. Stir in remaining ingredients; reduce heat to low. Simmer, covered, for one to two hours, adding water as necessary. Makes 12 servings.
(As you can see, I topped mine with beautiful avocado…) Enjoy!