Movie Review: Miss Potter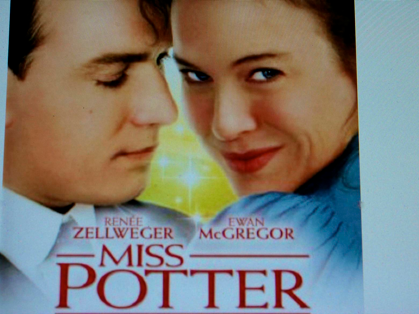 Are you ever wanting a good movie without sex, violence or swearing? This is a film the whole family can enjoy. It is about Beatrix Potter, and her journey to become the best selling children's book author of all time. (You know, the creator of Peter Rabbit, Benjamin Bunny, Jemima Puddle-duck and Jeremy Fisher…) Her imagination and courage, as well as her steady but gentle breaking out of her confined spot in the world, are infectious and inspiring.
I hadn't seen this movie when it originally came out in 2006 because I thought it was supposed to be sad. Instead, I found it uplifting and heartwarming. My husband liked it so much he stayed up until 2am and watched all the extras and bonus footage! My friends that kept recommending it to me are right; thank you! I give this sweet, genuine movie 5 stars.
Life's road may be circuitous, but that does not preclude it from going upwards. Now I want to visit "the lake district…" Check out this refreshing movie from your library and enjoy… it is a treat to watch.