The Christian Science Monitor: Ready for the Next 100 Years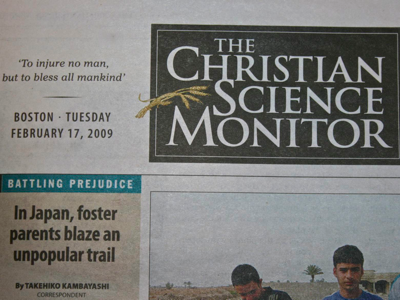 The Christian Science Monitor just celebrated its 100th birthday last fall as a respected international daily newspaper.  It is now in the process of redesigning itself, converting from a daily paper to a 24/7 online news service, with a paper edition published weekly on Fridays.  It is the first newspaper with such a wide audience to make this dramatic leap to align with our increasingly digital age.
"Online journalism is more timely and is rapidly expanding its reach, especially among young readers," says editor John Yemma. "There's still a role for print, but one that is geared to weekends, when people still can find time to catch up, look behind the headlines, and experience the pleasures of print."  
While readership habits have changed, and therefore the delivery methods must also change, the essence of the paper will remain the same.  The Christian Science Monitor will continue with its 18 worldwide bureaus and it's renowned thoroughness in reporting global and national news. The outstanding articles will still be detailed and insightful. The mission of the paper will also be maintained. 
The founder of this paper, Mary Baker Eddy, is also the founder of the Christian Science church.  She was dissatisfied with the "yellow journalism" of her day, and yearned for a newspaper that operated from higher motives.
She wanted a paper that functioned from the premise that resolution, healing and peace are always possible. She sought accurate factual information in a newspaper that did not try to dictate what one should think. She desired a paper that left the reader thinking about and working toward solutions, as well as praying about issues.
Even though the paper is not religious in content, she saw a spiritual need and filled it — finally founding the Christian Science Monitor newspaper to expressly "injure no man, but to bless all mankind."
This approach has led not only to the paper's high regard but to seven Pulitzer Prizes as well.  The paper's emphasis is fair, unbiased, unsensationalized journalism, which was not only a need a hundred years ago but is in so much more demand today. 
The Christian Science Monitor has been an example of excellent journalism all these years and now it is forging courageous new ground for the newspaper trade by taking this bold step in specifically accommodating today's digital and weekend readers.
The switch from a daily print edition to a weekly will take place in April. The weekly edition will have more color photos and be printed on bright white stock.  It will highlight the news of the week with in-depth coverage.
As always, the print copy is available at some libraries, in Christian Science Reading Rooms everywhere, or by subscription. You can view the online edition at www.csmonitor.com. The Monitor is positioning itself well to bless mankind for the next one hundred years.