Recipe: Our Homemade Salmon Burgers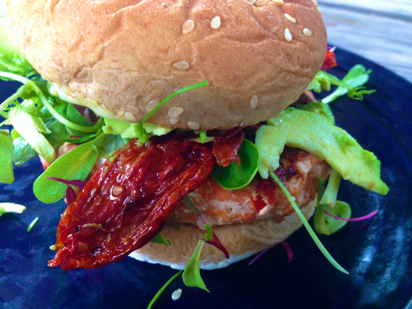 We have made these salmon burgers for over 15 years, having adjusted a recipe over time that was originally in the New York Times. I just realized recently that the recipe has never made it onto my blog so I'm fixing this omission right away!
We usually make three batches of the recipe below all at once. We get all the garlic, onions, and peppers ready to go in three prep bowls. After each batch is put through the food processor, we put it all in one giant bowl, and then mix in the rest of the ingredients at the end. Then we freeze the salmon burgers for a quick, delicious meal when we don't feel like cooking.
1 1/2 lbs. wild-caught skinless boneless salmon (I use frozen from Trader Jo's, or buy fresh from Costco: just make sure it is wild caught and remove all skin)
2 tsp. Dijon mustard
2-4 cloves of garlic (I use 4, yum)
1 small onion (or about 1/3 of one of those monster onions) cut in large chunks
1/3 red bell pepper, cut in chunks
1/2 cup bread crumbs (I use whole wheat)
1 TBSP capers, drained
salt and pepper to taste
Put the garlic in a food processor and process until it is as small as it will get. Scrape it down from the sides.
Cut the salmon into large chunks and put about one quarter of it into the food processor. Add the Dijon mustard and process until the mixture becomes pasty. You may have to stop and scrape down the sides.
Add the onion and pepper. Pulse until they are small pieces about the size of a pea.
Add the remaining salmon. Pulse until the fish is chopped and well combined with the purée. No piece should be larger than a quarter inch or so. This step goes fast so be careful not to make the mixture too fine. You may have to take off the lid and rearrange things a couple of times to get everything evenly chopped depending on the size of your food processor.
Scrape the mixture into a large bowl and stir in the bread crumbs, capers, salt and pepper. Shape into four burgers–or however many you want depending on size. We use a 1/2 cup measure to create uniform, standard sized burgers.
To cook: Add a just a tad of olive oil to a skillet and cook on medium low for 2-3 minutes on each side. Be careful not to overcook them; we have learned that slower is better. You can serve the burgers on a bun or without. We garnish with some combination of dill, mayo, granulated garlic powder, wasabi mayo, avocado, roasted tomatoes, arugula, fresh tomatoes, lettuce, or micro-greens…. We change it up a lot. You will figure out how you like them best.
Enjoy!