Kayaking in the Bayou with Alligators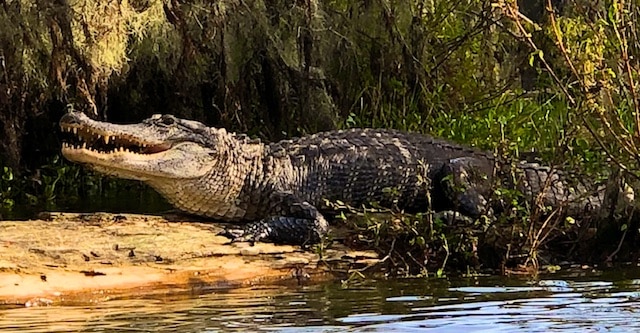 Before our family said a million goodbyes and returned home our separate ways, we went for a kayak in the bayou to see the alligators.
Apparently there is a difference between alligators and crocodiles, and we are told the alligators in Louisiana don't make a habit of eating people. My husband floated his kayak a little too close to one, however, where it was sunning itself on a log, and it slithered off, plunging beneath his kayak, which gave me pause! The creatures are so big and prehistoric looking, they are fascinating to watch– so still, until all of a sudden they are not. Their webbed, clawed hands, and their snaggleteeth casually overlapping outside their lips were so iconic, as was their skin, which was reminiscent of cumbersome medieval armor.
The cypress trees were magnificent with their fibrous, hanging moss, their straggly, unusual shapes, and their dark reflections. Their flared bases looked like pleated skirts to me. We saw a large blue heron, huge pileated woodpeckers, and egrets too.
After the paddle, Ellie had tailgate leftover homegrown mulberry gelato (oh my, yum!) for us. Then we went out for Pho, where the marriage certificate was signed. More hugs followed and then–whoosh– we flew home!