Creative Arts Camp Activity I Led (2021)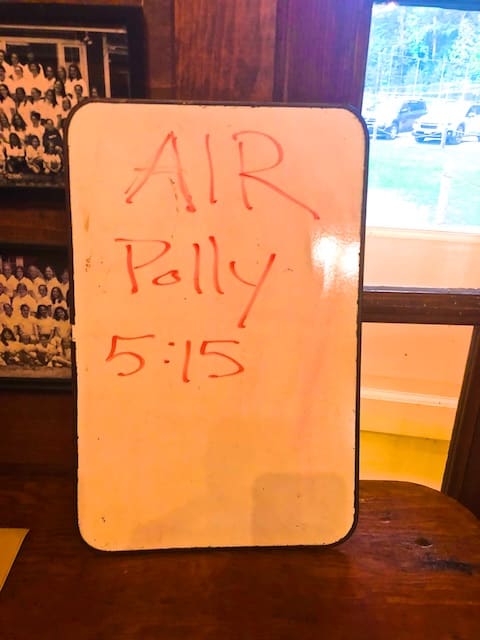 One of the requirements for my artist-in-residency (AIR) was to hold an hour long activity during one of the free periods. I was assigned the 5:15 slot the first full day, and it was hot. Still people came for which I'm grateful.
The first four photos show what I discussed before the hands on part commenced.
Basically, each person was assigned a visual element to add to the painting. In turn, they were asked to approach the painting, prayerfully consider which brush and which color to use, and how to bring that type of visual content to bear all on a shared composition. There were two rounds, so whoever wanted to play got two turns, each with a different element.
Although these are all creative people, many are theater people, singers, or representational artists. My hope was that this exercise would familiarize them to the fact that there actually is content in abstract art. Hopefully, they'd learn some of the ways to look for it, thereby both understanding and enjoying abstract art more. In trying to apply these ideas themselves, maybe their appreciation for the principles involved would grow.
People seemed to get something out of doing and watching this. Throughout the week I heard people refer to how they had applied what they learned about these elements through this exercise to their own work during the week.
Because of Covid, everyone was trying to keep their distance, and watching the unfoldment of people's approaches and choices might have been more illuminating if they could have huddled around more closely to watch each step. However, this way, each person's turn did have the room to quietly contemplate what they were doing, and this was a plus.
Additionally, the poster summaries (original to me!) are a strong key to anyone who wants to do effective abstract work.
I thought I would raffle off the end result painting to benefit camp, but it did not sell. Instead, it graced the entrance to the dining hall all week to remind folks of our collective effort.
In the photos below (some of which were contributed by others), you can see this collaboration evolve.