Roasted Radishes with Radish Greens (recipe)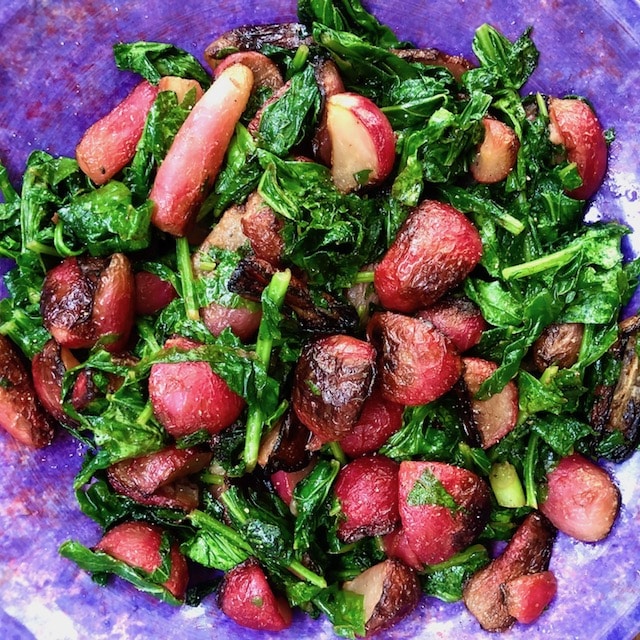 Our farmer's market is brimming with radishes, and some of you want to know if you can eat the greens. The answer is yes! Here is my favorite way to cook them.
Not a main dish, or even a primary side dish, these add umph to any plate, with the slightly bitter greens complimenting the color pop of the tender radishes. This serves four in that manner, and refrigerates just fine, making perfect leftovers.
I try to make this the day I get home with them, for the greens do not stay fresh very long unless you cook them.
Recipe for Roasted Radishes with Radish Greens
Two large bunches of radishes
2 Tablespoons olive oil
2 Tablespoons butter or ghee
2 Tablespoons fresh squeezed lemon juice
Sea salt and freshly ground pepper
Preheat oven to 500ºF.
Wash and pat dry both radishes and greens. Trim off tops and tails of the radishes, and cut them in halves or quarters so pieces are similar in size. Chop up the greens.
In an oven proof pan (I use cast iron) heat the oil over high heat, and then add the radishes. Stir them, sizzling, for two minutes, until they start to brown.
Transfer the pan to the oven and roast for 15 minutes.
Return the pan to the stove, add the butter or ghee, as well as the greens, and cook, stirring, over medium heat until the greens have wilted.
Take off the burner. Add the lemon juice and salt and pepper. Serve immediately.